Anna Stephan earns Theatre President title for her senior year
August 18, 2015
The Glenbard West Theatre Club has always produced outstanding productions for the community. A large part of their performance success lies in the leadership within the group. As a new school year approaches, upperclassmen will now fill the shoes of the seniors before them in attempt to not only recreate the success of past productions, but grow the club as a whole.
Anna Stephan, senior, has earned the role of Theatre Club President this coming school year. She has been a member of the group since freshman year and acted in musicals West Side Story, Urinetown, and Thoroughly Modern Millie.
In addition to her performance roles, Anna has been an enormous help working on the Business Crew for Moon Over Buffalo, Antigone, Peter Pan, and Figments. Stephan was co-head of costume design for Wizard of Oz as well.
"I love that [theatre] is a place for everyone's talents" Anna explains.  "Theatre is not just about the actors you see onstage, but it is about the business crew who spend hours meeting and talking about how to best publicize the show and working hard to make sure people actually come to the performances and are in the right seats."
As President, Stephan will be responsible for running the club meetings and relaying information regarding shows, dates, and events.
"I also lead the Board meetings which is where me and a group of 9 other awesome kids that make up the theatre board discuss what we need to talk about at club meetings, talk about events, publicity, fundraising, and anything else that needs to be done for the club," says Anna.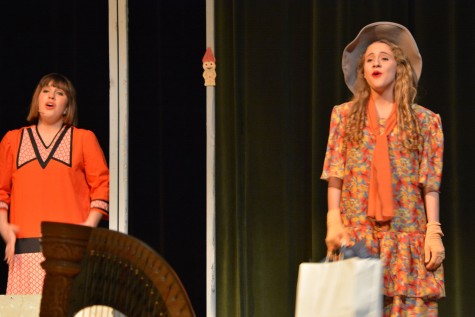 Fellow board members and friends are excited about Stephan's new position.
"Anna has been an awesome performer in our shows and has helped a lot with the business aspects of the club. I'm excited to see her plans for how we'll be improving theatre this year," says senior Maddie Giffin, co-head of Social Events on the board. 
Ultimately, the senior stresses the importance of the group becoming a community. There are many students and faculty members that must work as a team in order to produce each show. Stephan emphasizes the value in each of the production groups, whether they be acting, business, or tech.
"Everyone comes together to make such awesome productions and we are all very supportive and appreciative of the different talents and hard work that go into making a show happen. Theatre is a special club because everyone is so welcoming, friendly, and accepting. Incredible bonds are made onstage and off and I am always so amazed at how passionate everyone is about what they do" Anna says.
This fall, Anna is excited to announce they will be putting on the musical entitled Godspell. The club hopes to bring the performance to Theatre Fest in January. Attending Theatre Fest is the equivalent of State for any high school theatre performance. During Godspell, scouts will evaluate the show and determine whether it has earned the chance to perform at State.  
"I'm super excited about this because I know the club is going to create an awesome production and we haven't brought a main stage show to state in a long time!" Anna explains.
In addition to bringing the group to State, Stephan wants to add a service project aspect to the club this year. She is hoping to collaborate with the Children's Resource Center in order to perform shows and create workshops for the kids. Singing and putting on small plays at medical centers would also be included.
"It's something easy, but impactful that we could do as a club. And since the musical is Godspell, which talks a lot about serving others and loving those around you, I think it would be very cool to literally go out and do that," Anna explains.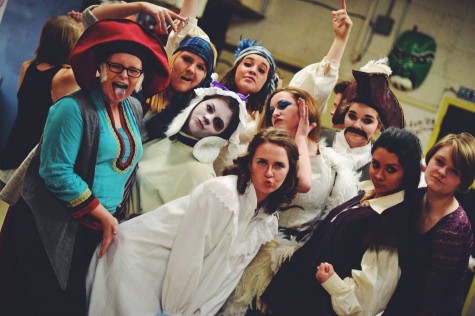 Overall, West is excited to welcome the new Theatre President. With her positive community attitude, leadership abilities, and the new ideas she has to offer, Stephan will surely lead the group to another year of success. If you want to join Anna and the rest of the members this coming school year, meetings are every Thursday after school in the auditorium balcony.
"Theatre is one big family," says Stephan. "We are all very close, but at the same time our arms are always open to new people and we are so excited when we get a new 'family' member!"