Highlights from a Night of 'Gilded Glamour': Met Gala Outfits 2022: Bop or Flop?
May 17, 2022
The much-anticipated event is finally here! Most well-known as America's annual "biggest day of fashion," the glamorous Met Gala marks a day of celebrating wild, creative, and most notably, expensive fashion statements. Whether it be the fact that all your favorite A-list celebrities walk down the red carpet wearing the most extravagant clothing OR YouTubers and other content creators carry out the most entertaining and hilarious interviews, it's difficult to swallow that next year will be the 75th anniversary of the beloved ball held at the Metropolitan Museum of Art in New York. After being canceled in 2020 and held in September last year, this was the first 'normal' Met Gala we've had in two years, following COVID. This year, the theme was In America: An Anthology of Fashion, with the dress code being Gilded Glamour, which means to show how extreme wealth and glamour was used to conceal the social unrest and turmoil of past eras. How exciting! Celebrating the history of American fashion while also enjoying a modern take, the exhibition quite literally saw history repeat itself. Buckle up, because today, we'll be rating the most eye-catching outfits of the night on a scale of bop (winner-worthy) to flop (hard pass) and trust me, many could not be further from the theme.
---
Blake Lively: Bop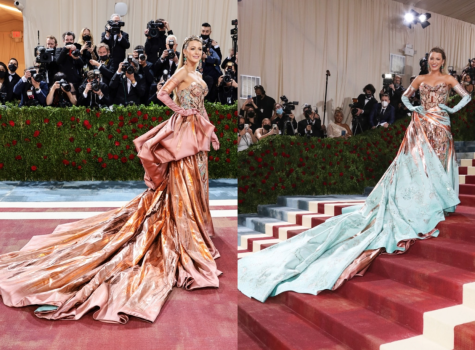 Absolutely breathtaking. Being one of the night's hosts, her entrance was accompanied by a very dramatic dress reveal, and she most definitely did not disappoint. The sparkling pinkish-orange Versace dress was ripped off on stage to reveal an astonishing baby blue Cinderella-like dress. It is reported that Lively specifically wanted a dress similar to the Statue of Liberty to pay homage to the 305-feet historic monument and what it means to America.
---
Kim Kardashian: Flop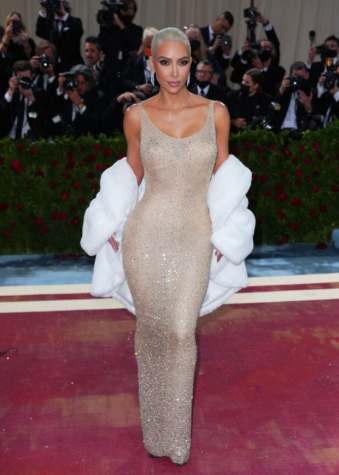 Now, this is a highly debatable one. I love the look, but this is the very dress Marilyn Monroe wore when she sang "Happy Birthday, Mr. President" to John F. Kennedy at Madison Square Garden in 1962. It was privately on display for several years, then found and acquired by Ripley's Believe it or Not! collection in 2016 for $4.8 million. Kim Kardashian was allowed to borrow it for some reason, and following public outrage, the museum recently reviewed and edited its policy of handling historic garments. Just the thought of recycling an iconic figure's unforgettable outfit and wearing it as one's own doesn't sit well with many. Fans were concerned as to how unoriginal and disrespectful wearing this gown was to the late 60s icon.
---
Emma Chamberlain: Bop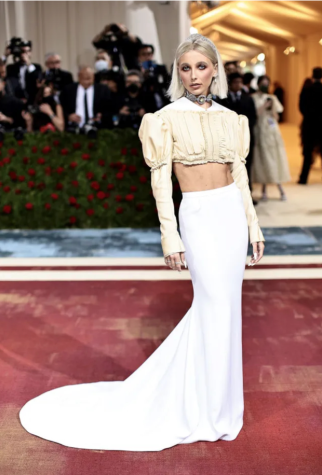 YouTuber-turned-successful business woman Emma Chamberlain left the public speechless as she went platinum blonde for the Met Gala, sporting a beige-colored corset, white skirt, and a statement choker—all designed by Louis Vuitton.
---
Amy Schumer: Flop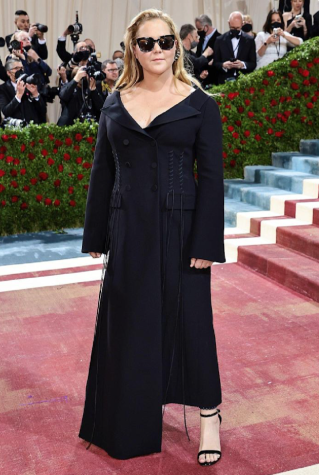 The combination of an all-black boxy dress paired with open-toe heels on top of randomly wearing shades while it's 80 degrees outside makes this outfit perhaps one of the most horrifying ones of the night. If I didn't know any better, I would think she was on her way to a funeral.
---
Shawn Mendes: Bop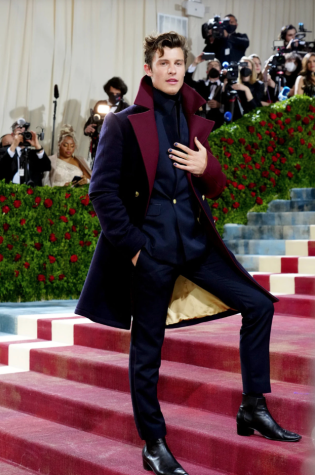 Although many twitter users jokingly compared this look to Disney's Beauty and The Beast villain Gaston, I think this look perfectly goes with the theme, especially since we've seen much less of a "wow"-factor from Shawn before. Mendes comments in an interview that "[he's] very excited, but still sort of nervous to step out of [his] comfort zone." Styled by Tommy Hilfiger, the singer is reported to have a major collaboration with them in the future.
---
Kendall Jenner: Flop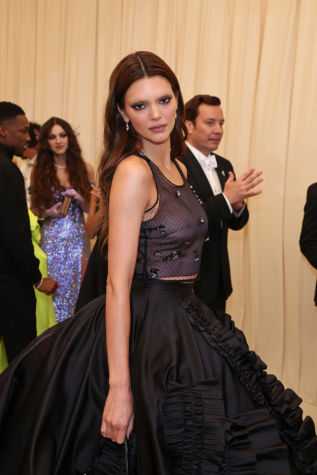 There's nothing wrong with the look — the real crime is that someone stole Kendall's eyebrows.
---
Lily Aldridge: Bop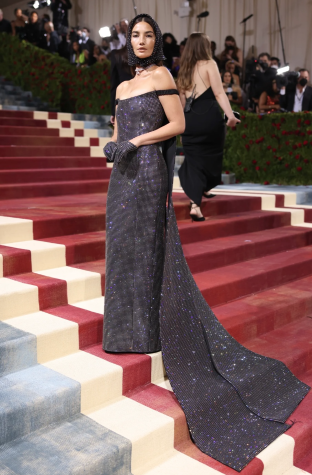 Supermodel Lily Aldridge partnered up with Khaite to embrace both the Glitz and Glamour of the Met Gala and 'Gilded Glamour' theme. Sporting a dress covered in around 170,000 Indian crystals that took around 180 hours of craftsmanship to complete, the sparkling dress was paired with matching gloves and a gorgeous headpiece.
---
Elon Musk: Flop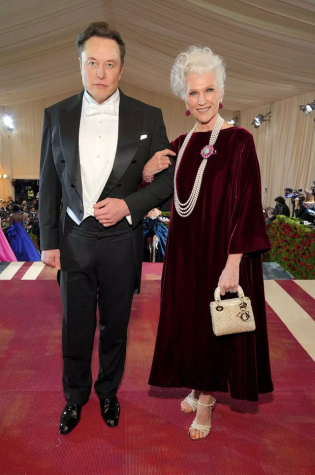 I almost didn't recognize Musk escorting his mother in this butler outfit. You'd think the richest man on earth would at least have decent fashion sense.
---
Billie Eilish: Bop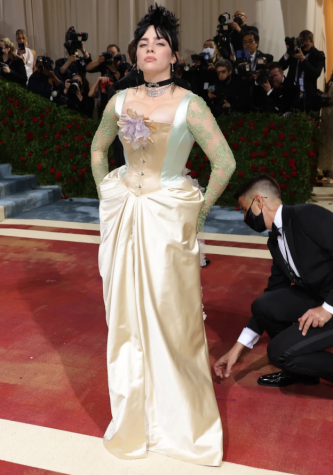 Absolutely obsessed with this look. From the silky off-white corset gown down to the intricate green-flower lace sleeves, Billie checked off all the boxes. If this isn't 'Gilded Glamour,' I don't know what is. The first thought that immediately came to my mind when looking at this amazing dress was regency-period drama Bridgerton!
---
Nicki Minaj: Flop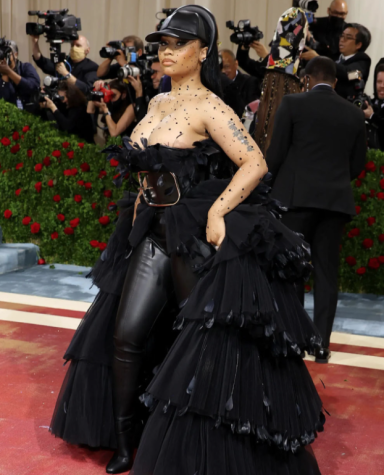 Now, hear me out. I absolutely love Nicki, but I would be a liar if I didn't say that this look was disappointing. If there is one conclusion I come to after reviewing all of the outfits of the night, it would be to stop normalizing baseball caps in fashion, as there have been too many instances. Even Kylie felt the need to sport one, ruining her entire look. On another note, the abnormally large belt is quite hilarious. Not sure what's going on with the sparkly-skin effect or leather leggings, either.
---
All in all, the 2022 Met Gala was absolutely breathtaking, and left us all speechless. It is so refreshing to see so many eccentric yet spectacular outfits all at once. Whether you're a hardcore fashionista or just a fan, it's hard to deny the vast impact this event has on the fashion industry every single year. It truly is one of my favorite nights of the year, and for every other fashion-lover, I imagine. I cannot wait to see everything next year's magical ball has to offer.