Homecoming: Past, Present, and Future
No matter the decade or the year, Homecoming at Glenbard West has continued to be an event full of traditions and festivities. Whether it be the tradition of the bonfire at Duchon Field or the parade down Main Street, Homecoming proves to be a unique tradition that brings the entire community together.
What makes Glenbard West's Homecoming different from other schools in the area is that some of the traditions have taken place for decades. Glenbard West has always embodied a "return to tradition," says Student Council sponsor, Mary Bertane. Events such as the pep rally, the bonfire, the parade, and the football game are examples of traditions that encompass Glenbard West's Homecoming history.
The tradition of the bonfire actually happened by circumstance. In the early 1950s Glenbard West's main hallway had wood flooring instead of the tile it has today. When the school decided to replace the wood with tile, they stripped the floors and threw the wood in a pile on Duchon. That year they burned the wood and crowds of people came to watch. With this came the tradition of the bonfire, which has taken place every homecoming weekend since.
Glenbard West has also continued the tradition of the Homecoming parade. Mrs. Bertane said that West is one of the only schools in the area that still has one. The parade draws families, alumni, and students to watch the cars and floats, decorated for different clubs and sports, make their way down Main Street. However, Mrs. Bertane continued to say that she wishes floats were as big of a tradition as they used to be. Students used to spend weeks decorating cars and getting ready for the parade, but putting in the effort to make extravagant floats doesn't seem to be the priority of students anymore.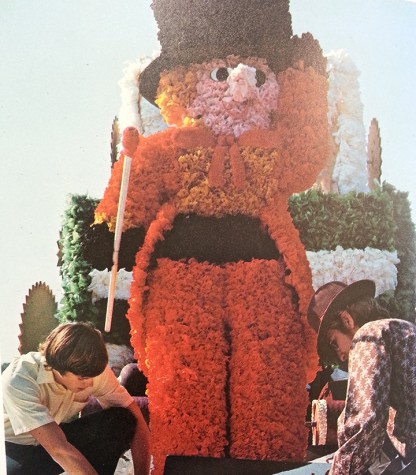 "The participation is always what is important to us," says Chris Mitchell, Assistant Principal of Student Services, in regards to floats not being nearly as popular as they used to be. Based on the success of the parade, participation does not seem to be an issue, though.
At a school that was founded in 1922, some traditions are bound to die out or not be liked by everyone. For example, Chris Gladish, alumna of the class of '80, and Student Counseling Assistant at Glenbard West, said that Homecoming mums used to be popular during the week leading up to homecoming, but is no longer a common tradition done by students. Many also question the absence of a Homecoming king and why we never had one.
Student Council Special Events co-chair, Claire Morawski, says that if she could change one thing about Homecoming it would be "the coronation process because [she] wish[es] boys could be eligible for court." After questioning many, no one had an answer as to why Glenbard West doesn't have a Homecoming king. Perhaps no one will ever know why but it is something to keep in mind for future Homecomings.
As the years go by, Homecoming seems to get more and more extravagant, or at least that's what Sarah Boockford, Glenbard West alumna of the class of '77, thinks.
The limos, fancy dinners in the city, huge picture parties, and creative askings are all too much and she wishes "Homecoming became more simplified, keeping the basics going."
Mrs. Gladish also said that when she went to highschool students never asked each other to Homecoming in creative ways, "[they] just called each other on the phone."
However, what she likes about Homecoming now is that everyone goes, even if it's with a group of friends. Back then, she said that "you only went if you were dating someone or happened to get asked." This change in tradition conveys West's obvious sense of friendship and community in and out of school.
As an alumna, Sarah Boockford describes perfectly everything that Glenbard West's Homecoming means to the community. "I love watching all the events unfold during the homecoming weekend. There is still so much pride as an individual, parent, and fan. My entire family attended West, and besides the physical beauty of the school, there exists an intangible at Glenbard…pride," said Boockford.
Mr. Mitchell echoed her statement by saying that "showing respect for alumni and generational families who send and will continue to send their kids to Glenbard West is really what Homecoming means."
Despite the small differences throughout the years and potential changes in the future, Glenbard West's Homecoming traditions never fail to do one thing: bring together generations of people to celebrate a truly unique and pride-filled school and community.