Going Beyond the Finish Line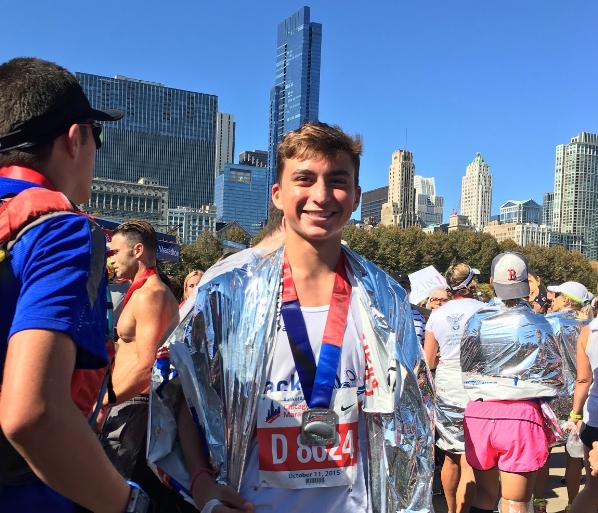 The term marathon comes from a story that will not make you want to run the 26.2 miles that make up a marathon. Over 2,500 years ago, Pheidippides–a Greek messenger–ran 26 miles to deliver the news that the Greeks won the Battle at Marathon against Persia, then died promptly after.
So, one may ask, why would someone voluntarily run 26.2 miles if the man who is said to have created the marathon died after running it? Running is a life-changing choice people make for a number of reasons.
Everyone runs for a different purpose: to get in shape, to build self determination, or to help a cause. According to the Bank of America Chicago Marathon website, 10,000 runners ran for 190 local, as well as global, charities this year in the Chicago Marathon alone. Steve Lutz was one of those runners.
Steve Lutz, also known as the "Mayor of the Prairie Path" to Glen Ellyn residents, has been "running for Jack's team in the Chicago Marathon for nine or ten years and [he has] been raising money for melanoma through that."
This Run's for Jack, which is a local fundraising event for melanoma research that happens every year, is the group Lutz supported at the Chicago Marathon.
This year at the This Run's for Jack event, on Sunday, October 18, Lutz tearfully accepted an award given to him by Sharon Marston, Jack's wife, which contained his mantra, "Running for those who can't."
Besides the fundraising aspect of running, Lutz says, "30,000 miles and 23 marathons on these old legs" has only made him a better person. "Running helps you understand that you can take challenges on" and grow by learning to finish what you start.
Kyle Nugent, former high school cross country star and science teacher at Glenbard West, agrees with Lutz as he says, "Running has taught me to be resilient, to keep fighting through tough times. I hold that mindset for everything I do in my life."
Nugent  "does not remember life before running," but he does recall "not having something to look forward to every day."
But today Nugent says, "Running made me want to be a teacher and coach, that's my whole life. If I didn't run, I'd be doing something else professionally and I would not be as happy."
Nugent started running as a sport, but it soon became a new lifestyle, like Glenbard West senior, Tyler Scigousky.
Scigousky, 17, ran his first marathon on October 11, 2015. He first decided to run because he "knew that [he] was running for a greater purpose."
But while he was running all he thought about was the finish line. When he finished the long 26.2 miles, he says, "There were no pains, no worries. It [was]… incredible." This was only one of two life-changing experiences Scigousky encountered that day.
A man came up to him and said, "You're only 17 and you've done one of the hardest things you can do. The determination you learned from this will take you to do anything." Scigousky says that this will stick with him always.
Senior at Glenbard West, Caitlyn Reick, has been running cross country for four years. She, like most other runners, claims, "Running has made me become more mentally tough. You can't just give up." This made her learn the importance of believing in herself and fighting to finish anything.
Athletes who run long distances can encounter the "runner's high," which is a rise in endorphins in the runner's brain. Lutz has overcome an addiction problem that urged him to start running and claims that "no type of drug compares to this feeling."
The runner's high is something that Scigousky says he can't even describe. While Nugent explains it as, "Pure happiness, pride and just being happy for yourself," and what Caitlyn describes as a feeling of extreme accomplishment and happiness.
But the effects of running are unforgettable. Nugent says, "[I] had no real focus or passion before running," and that he still "uses that mental strength today." While Lutz is on his "twenty third marathon, on December 27 of this year will be twenty three years of sobriety" for him. This accomplishment will be remembered by Lutz for his entire life.
Running made Lutz realize "adversity is worth getting through." Running gave Nugent "confidence and made [him] fearless." Running gave Scigousky two life-changing lessons and made Caitlyn believe in herself, while also making lifelong friends.
"Not a lot of people are made to do marathons," Lutz says, "but there are all different shapes, sizes, ages, races, handicapped or not. It's amazing to see all the people that get out there." He describes that not everyone out there is facing a challenge in their life, but it helps you understand that you can take challenges on. "Running is an incredible blessing in my life."
Alli Stein, first time finisher, collapsed after running the Chicago Marathon, crying while hugging her sister. Stein says she felt her "Stomach fill with butterflies mixed with overwhelming happiness."