Glenbard West Goes Green
Eco Club steps up to take charge of changes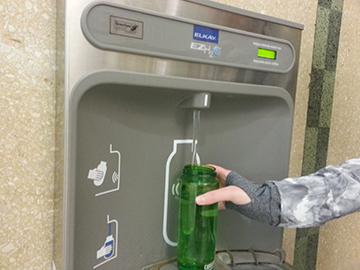 In the past few years Glenbard West's Eco Club has organized numerous projects to help the environment. The extracurricular club has used the recent attention to environmental concerns to their advantage, creating more and more projects every year.
Mr. Nugent, biology teacher, has seen the rapid increase of environmentally aware students throughout his six years at West. He noticed that "The APES [AP Environmental Science] class and Eco Club has blown up so there are more kids aware of environmental issues."
Nugent has also noticed that activities like the recycling program, Greenies, started to develop around when he arrived at the school about five years ago. As awareness has grown, so has Eco Club's projects.
The sponsor of Eco Club, Biology and AP Environmental Science teacher Eric Lindberg, stated that, "The biggest success we've had is the acquisition of the water bottle fillers." Many students throughout Glenbard West take advantage of the new fountains.
In the past three years, the club has installed several water bottle filling stations in place of the current drinking fountains. These stations allow for rapid filling, so students find it easier to fill up a reusable than bringing a plastic bottle. So far, all of these fillers around West have saved a combined 167,645 bottles from landfills.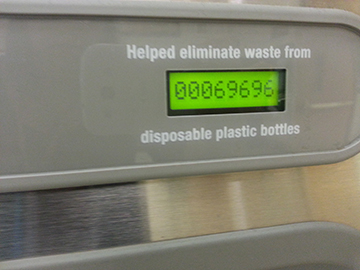 However, other large Eco Club projects do happen more frequently than people know about.
When Memorial Field was being built in 2010, the construction would destroy much of the wild prairie of the area, a large concern for the organisms of that environment.
Lindberg brought this issue to the club, which began a restoration project for the land there and fully restored an area next to the field. Another project that few people know about is the no idling signs on streets surrounding the school. These were actually an Eco Club project to reduce emissions.  
One large part of the Glenbard West green movement was the club's interest in making the new science wing addition as eco-friendly as possible. Currently, plans are to add a green roof to the building for both teaching and helping the environment.
Assistant Principal of Operations Lisa Oberg stated, "Future plans include some solar energy panels and a small wind turbine for the roof."  Although it will be mostly for teaching, the club hopes it will make more students interested in making their lives more eco-friendly. Eco Club did not directly push for these items, but they believe it a is a great step for environmental awareness in the school.  
In addition to large eco-projects like the water bottle filling stations and prairie restoration, the club is planning many more projects to make an impact on an even larger scale. President of Eco Club, Caroline Maltby, is pushing for a project called the Plastic Bag Campaign. She explained it "is an ordinance to tax an extra 10 cents per paper or plastic bag in an effort to get people to bring reusable bags to stores."
A similar law is already in place in Chicago, banning outright all plastic bags in chain stores over 10,000 square feet. The ban came as a shock to Chicagoans at first, but now many support it.  
Currently the Plastic Bag Campaign is still being looked into by the Glen Ellyn town board, but Caroline hopes it will be put in place soon.
Members of the club are also very dedicated to helping the environment, even in little ways. Club and senior member Maddy Burt recalled her experience of the tiny things she has done saying, "I haven't drank bottled water in over a year and I always recycle, even if I have to go out of my way to."
The club believes anyone can make a difference, no matter how small it may seem. Maddy says that, "By turning off your sink when not using it, always recycling, and using a reusable water bottle, you are already an honorary member of the club."