Paul Bischoff Commits to Stanford University Volleyball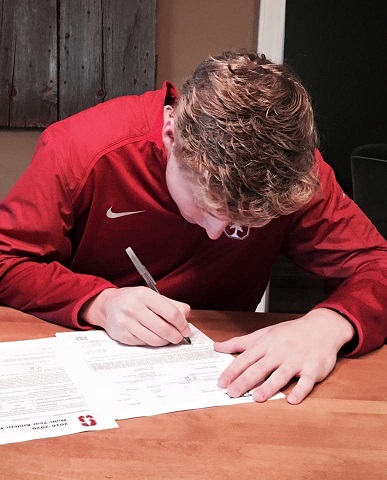 This fall has been an outstanding season for Glenbard West Athletics. Raking up three West Suburban Silver Conference championships, two-second place finishes, and a State title, all of our fall athletes should be proud of their accomplishments. One athlete in particular, however, should be recognized for his achievement off the court. Paul Bischoff, senior volleyball player, committed to Stanford University this fall.
Initially invested in lacrosse, Paul first tried out for volleyball in 7th grade. It was not until Glenbard West Coach Christine Guinta-Meyer saw his potential and convinced him to continue with volleyball that he fully dedicated himself to the sport.
"My first club season was at Hitmen Volleyball Club in 8th grade. I then transferred over to Sports Performance Volleyball sophomore year," says Bischoff. "This program provides great training and exposure to high level volleyball.
Speaking highly of his club, Paul explains that it was soon after he joined Sports Performance Volleyball Club that he truly realized the possibility of playing college volleyball. During his sophomore year, he contacted about eight college coaches prior to his National tournament—including UCLA, Loyola-Chicago, Stanford, Harvard, Pepperdine and Ohio State—asking them to come watch him play.
"That was the best decision I made," Paul said.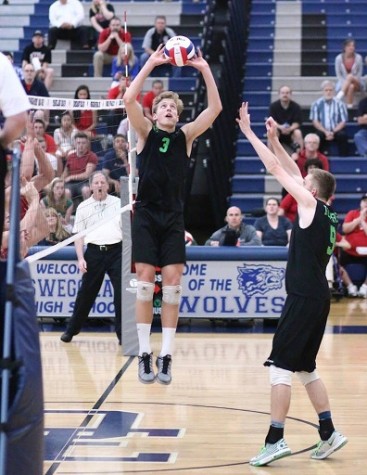 Bischoff also explained that some of his motivation to play college volleyball stemmed from the opportunity he had to compete with the USA Youth National Team this past summer. Beginning the USA pipeline as a junior with the USA Youth Continental team, Paul recently became a member of the 19u Youth National team, and plans to try out for the 21u National Team this coming year.
"Competing with the USA Youth National team this summer, I made many great relationships and learned how to improve every aspect of my game," Paul says.
When time came to choose the school he would attend next fall, Paul ultimately knew that Stanford was the best fit for him.
"Overall, I wanted to go to a school where I could get a great education, enjoy myself, and play volleyball. Stanford has the whole package."
While at Stanford, Paul intends on majoring in medicine, but is also interested in pursuing management science engineering.
In a word of advice to Glenbard West's younger athletes, Paul emphasizes the importance of a player's off the court attitude and the necessity to avoid being a poison to the team. Similarly, he points out that hard work will always be necessary, and to never give up your dream.
"Just because it gets hard does not mean you need to stop. Any collegiate sport requires dedication, so don't stop working because the sport is getting tough; keep grinding."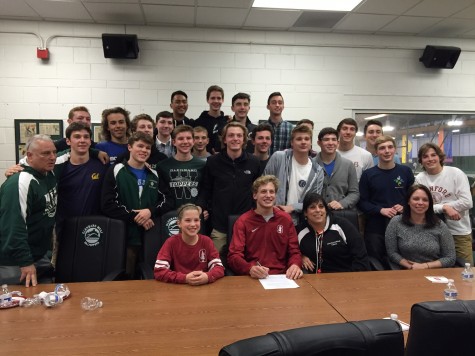 Of course, Bischoff and the rest of the returning members of Glenbard West's Boy's Varsity Volleyball team are fresh off of a State Championship, and Paul's commitment to Stanford has not left him any less hungry for another ring.
"We have a great group of returning seniors and a very talented group of juniors. The team goal is to repeat a State Championship; however it will be a tough journey that will require lots of hard work."
The Glenbard West community congratulates Paul on his exciting commitment, and has no doubt that he will help lead the Boy's Volleyball team to another successful season this spring. We wish Paul all the best in his future years at Stanford University!