'Carol' brings realism and heart to this romance
With 6 Oscar nominations, this film is a critic favorite.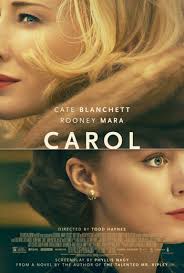 With multiple nominations at the Golden Globes, the Oscars, the Academy Awards, and the BAFTA Awards, Carol is a favorite among critics.
Based on the novel The Price of Salt by Patricia Highsmith, the story follows the budding romance between Therese Bellevit (Rooney Mara) and Carol (Cate Blanchett), two women who meet by chance at the toy store where Therese works. Taking place in the early fifties, Carol's recent divorce and custody battle with her ex-husband complicate the story even more.
Phyllis Nagy's adaptation of Highsmith's novel is real and raw, cutting deep into the quiet lives of LGBT people in the first half of the twentieth century. Cate Blanchett as Carol is emotional and authentic, capturing the anguish of the LGBT community in 1950s America in a graceful and satisfying way. Her budding romance with Rooney Mara, a younger actress known for her roles in The Girl With The Dragon Tattoo and The Social Network, is portrayed beautifully on screen. Mara's ability to uncover the self-conscious and confused twenty-something in all of us is exceptional.
The soundtrack, an original score by composer Carter Burwell, has been nominated for five different awards alone. Heavy on clarinet, violin, and harp, it is reminiscent of Philip Glass' The Hours.
Not only is Carol a must-see for its brilliant acting, breathtaking cinematography, and stunning soundtrack, but its many award nominations bring its LGBT themes to the forefront of modern pop-culture, which is something worth celebrating.