Helpful Advice from College Freshmen
As high school students we have a lot to juggle, classes, homework, clubs, sports, etc. However another one of those many struggles is college, especially for current seniors. Not only does it come down to applying to and choosing which colleges to attend, but the stress of what comes after.
2015 Glenbard West graduate, Shabia Mohammed recently told us what the transition was like and how she managed college in general. Shabia currently attends Lewis University in Romeoville, Illinois and told us what to expect.
Looking back which would you say was a better experience, high school or college? Why?
Shabia: I'd say college is better since it gives you the opportunity to expand your horizons and get out of your comfort zone as well as to try new things. It's like a chance to start over, to redo the things you did wrong in high school and make the most out of your college experience.
How is the homework or coursework compared to high school?
Shabia: Homework and coursework is very similar to the course load you'll find in an average AP class. In fact a few of the classes I'm currently taking in college definitely feel easier than the ones from high school.
What lessons or experiences did you learn from high school that were valuable to you in college?
Shabia: It's important not to procrastinate. You have to pace yourself and do a little bit each day. You'll end up finishing your assignment the night before but it won't be the best you could've done. Also remember to get to know your professors so they know the face behind the name, and they can help you overcome your struggles.
Finally what advice would you give current high school students as they look to make the transition to college?
Shabia: Don't stress out! Glenbard West does a great job at preparing you for college. The bar is definitely higher but it isn't too drastic of a transition.
We were also able to obtain great advice from Glenbard West graduate of 2014, Paul Christian who currently attends Depauw University in Greenville, Indiana.
What are your favorite experiences from college so far?
Paul: There are many great things about college that I enjoy. You have a lot of autonomy, you learn a lot, and the weekends are a ton of fun. I'm involved in athletics, music, and Greek life which all are very worthwhile and contribute to my college experience.
What expectations should students have as they make the transition to college?
Paul: You should expect to be very busy and I would say a good goal for your first semester of college would be to keep your GPA up and meet as many people as you can. Everyone else is in the same boat as you and are just as clueless. People are generally helpful so don't be afraid to ask for help.
What lesson did you learn from high school that were valuable to you in college?
Paul: The most useful lesson that was helpful beginning college was time management. You have a lot more time on your hands in college, but also a lot more work, so you need to manage your time well and prioritize because there are a lot of distractions.
What advice would you give to current seniors?
Paul: My advice to current seniors going off to college next year would be to find a balance between doing everything and still having time to do everything well.
Finally Fatima Razvi, a senior that graduated last school year, and who is currently attending Benedictine University offered to share her own experiences with her transition to college in the summer.
From personal experience what has been the best thing about college so far?
Fatima: The best thing about college has got to be the independence. College is all about making your own choices. Make sure to make the right ones!
Which one do you find better college or high school? Why?
Fatima: I find college better, because you are able to create your own schedule!
How is the coursework compared to high school?
Fatima: You know when they say for every hour you spent in a college class you spend about three hours outside of class to study? Well that's true. Actual class doesn't really take much of your time, but you have to be responsible and actually study and get help if needed.
How was the transition from high school to college?
Fatima: It was pretty easy. Your adviser will be your friend and help you along the way.
What advice do you have to current seniors?
Fatima: Don't stress! College is about having fun, finding yourself, your hopes, dreams, and friends. It's a place where you'll create memories that'll last a lifetime. Don't ever say to yourself that you can't do it. Instead, be confident and prove that you can do anything your heart sets out to do.
About the Contributor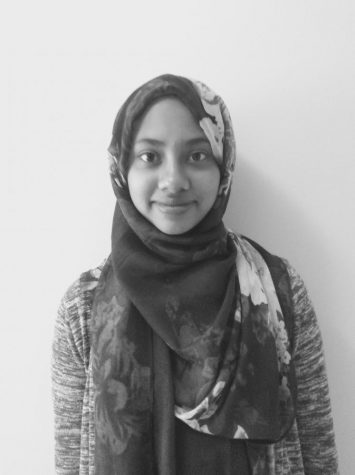 Aliyah Mohiuddin, Features Editor
Aliyah Mohiuddin is currently an editor and columnist for The Glen Bard. Her current column is called "Hidden Stars at West," featuring different students...