Quiana Ware commits to Western Michigan University
As documented through their road to state last fall, girl's volleyball remains a top sport here at West. West's Girl's Volleyball team is made up of some of the best athletes in the school, but one in particular played an important role in their journey to state last fall, senior, Quiana Ware.  Even though she only began playing club volleyball as a freshman, she has definitely made the most out of the sport in her four years at West.
Recently, Quiana made the biggest decision in her volleyball career, in committing to Western Michigan University.
"I felt ecstatic, I just knew that was the school I wanted to play for," Quiana explains.
However, Western Michigan wasn't the only school on Quiana's radar; she had also been looking at Michigan State, University of Minnesota, University of Duquesne, Cal State Fullerton and the University of Iowa.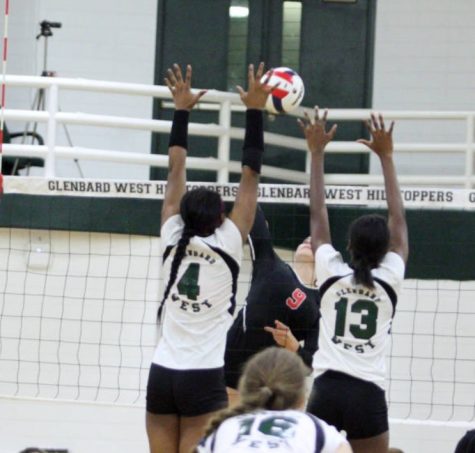 "I chose Western Michigan because I loved the environment of the school, the girls on the team were really welcoming and made me feel like a part of the team, and the coaches were so involved with their student-athlete's lives," Quiana explains.
A huge amount of commitment is necessary for Quiana in her volleyball career. Every Monday, she lifts weights for an hour and then every Wednesday, Thursday and Friday she practices for close to four and a half hours. She also competes in tournaments on weekends.
"Its not easy to give up your social life almost every weekend for volleyball, but a lot of the girls in the club, myself included, do it because we love the sport that we play.
Quiana also must balance her load of schoolwork by doing most of it during study hall so she won't have as much to complete when she gets home late after practice.
Aside from volleyball Quiana intends to major in Law and become a medical lawyer in the future.
Glenbard West is proud to have such a talented athlete as Quiana as a part of our student body. Her words of wisdom for aspiring college athletes?
"Never give up! You won't just wake up one day with this amazing athletic ability, it takes time and hard work."
Quiana's commitment to Western Michigan is just one of the many accomplishments she will fulfill both in her athletic and academic career. As a school, we wish Quiana all the best in her years to come at Western Michigan.