Hadley Junior High Students Protest Dress Code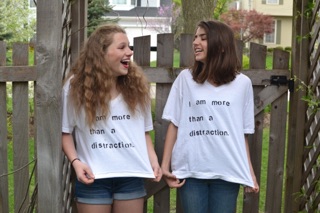 Before arriving here at West we all suffered through our awkward pre-teen years in middle school. Many of us attended Hadley Junior High School and can remember the gym uniforms or actually having to carry our books around, but for girls another predominate memory of our middle school days was constantly pulling down our shorts in fear of being confronted by teachers as we walked through the halls or into our classes.
The subject of the Hadley dress code has been battled on for years, and it's not surprising that Hadley girls have finally decided to take a stand.
Hadley eighth graders Emily Davidson and Roxy Geballe were inspired to protest the code after watching an empowering video about other teen girls speaking out against objectification in their schools. Both girls have been "dress coded" throughout their time at Hadley, however having to stick out like a sore thumb in their gym uniform was not the most deterring part of the experience.
The girls were discouraged to hear from one of their teachers that the dress code was enforced so that the male students would not have any distractions from their learning. Embroiled by this seemingly sexist comment, Emily and Roxy went further into research about the student dress code by opening up their student handbook.
What they discovered was that the restrictions on the dress code predominately focused around what girls could and could not wear, rather than boys. With this new information the girls decided it was time to voice their opinion. Emily and Roxy, along with their friends who also were passionate about the issue, proceeded to make T-shirts with the quote "I am more than a distraction" in direct response to the seemingly objectifying purpose of the dress code.
The girls have seen little response from Hadley administration, however have received a great positive reaction from their peers, boys and girls alike! Emily and Roxy have concluded that they will continue in their protest until graduation.
One would think that girls at West would face a similar issue to Roxy's and Emily's. However when surveying a girl from each grade level, the common thread was that the dress code is not much of an issue at West. None of the girls had any personal experiences where they felt the dress code objectified them in anyway, although the West's dress guidelines and Hadley's are almost parallel.
Whether this means West administration does not enforce the code to the extent of Hadley, or West students are more accepting of the code, the objectification of young girls at Hadley Jr. High will continue to be protested by activists like Roxy Geballe and Emily Davidson.