Hitters Cruise Past Rival York to Improve to 3-0, First Home Game this Saturday vs Downers Grove North
Glenbard West football has some huge shoes to fill after a State Championship in 2015 and the departure of Gatorade Player of the Year Sam Brodner (running back) and fellow All-State linebacker Nico Gagliano. However, the team has looked as if it hasn't taken any steps back starting 3-0 with their first two wins coming against Bolingbrook and Hinsdale South. In these two games combined, the Hitter defense, "Darkside," let up only 7 points, and the offense, "O-Train," scored 31 points aided by senior running back DJ Ficarella's 249 yards and 3 touchdowns.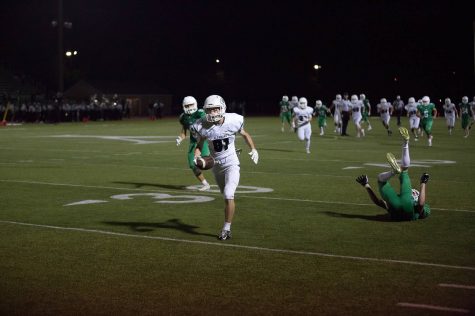 This past Friday was different than the first two games, though, as West beat York 42-7. The Hitters' offense finally took off, starting fast by scoring a touchdown on each of the first two drives. Junior fullback Dre Thomas led the backfield with 145 yards rushing, and quarterback Cole Brady threw his first touchdown of this year in the first quarter, and followed up with two more. He was able to utilize an arsenal of receivers, completing passes to 6 different targets: Alex Pihlstrom (TD), Robby Bystry, Ryan Diver, Cam Lilly, Alec Pierce (TD), & Ben Reifel (TD). When asked what the key to the O-Train's dominance of the game from the start was, Coach Mike Hofland replied, "Starting fast, no penalties and a couple of key 3rd down pickups on our 1st drive.  Then successfully running the ball set up our play action." Hof, as the team calls him, is in his 9th year with the program as the running backs' coach, but this is only his first as offensive coordinator.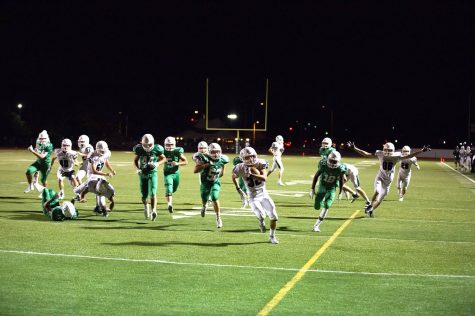 This Saturday, September 17th at 1:30, the Hitters return home after three straight away games to take on the Downers Grove North Trojans. Head Coach Chad Hetlet claims the reason that playing at home gives the Hitters such an advantage is, "From a technical side, Duchon Field is grass and we have no lights, so that means Saturday games. Not many schools play on Saturday anymore so it's a different routine for opponents and they are not used to playing on grass. Also, our fans are the best in the state. Particularly on Saturday at home when opponents' fans don't travel very well on Saturdays.
"The tradition is endless starting with Coach Duchon and the Hitter football teams of the 60s and 70s and Coach Covert continued the winning tradition in the 80s and into the 90s. Both of them are Hall of Fame coaches. There are thousands of young men that have played on that field and built the Hitter football tradition by playing hard-nosed physical football. There is not a better place to watch a high school football game than at Duchon field in the fall."
West expects a large crowd at Duchon Field to see the Hitter's unveil their new green chrome helmets, worn alongside the traditional all black uniforms. The theme for the game will be USA, so make sure to sport your red, white, and blue!