Girls Volleyball Celebrates Seniors, Regional Championship
As the Glenbard West's Girls Volleyball team advances in stride towards the end of their season, the seniors hold great aspirations towards returning to the Red Bird Arena, while facing the bittersweet realization that their several years in the Glenbard West Girls Volleyball program are soon coming to an end.
As for the returning players and the underclassmen on the team, they also have very high hopes in regards to the potential of this year's refreshingly young group of girls.
"This year was a little bit different than any other year because the majority of the team are sophomores. A big thing for me was making them feel welcome and a part of the team most of us had already been a part of," said senior player, Rachel Hoder. And so far, they have found success, boasting their title of 2016 Silver Conference Champions.
On October 13th, the team celebrated these successes as well as their five graduating athletes during their senior night in Biester Gymnasium. The seniors include: Bailey Wallace, Rachel Hoder, Claire Wagner, Ella Ridinger, and Gabi Marquez. There was a bittersweet feeling as the team geared up for their final home match, making it the seniors' last game with home advantage in their entire high school volleyball career.Unfortunately, Addison Trail slipped away with the victory that night, but spirits were still high for the girls.
"Since it was their last game, a lot of us played a little hesitant to make a mistake, so that affected how we played," commented junior setter Hannah Brodner. Rachel Hoder added, "I definitely think emotions were running high and that very easily could've been a distraction for us."
Despite this, the girls persisted and came out with a huge win against Oak Park River Forest the following week on October 18th, finishing them 6-0 in the West Suburban Conference. With only one more game before the Regional matches begin, senior Claire Wagner says, "It is very bittersweet and sentimental to me as I approach the end of my time in this program." Her two older sisters Kate and Megan being volleyball alumni, Claire continues, "It's been a huge part of our family. We will miss the program and all the people so much, but will never forget all the memories we made."
Captain Claire Wagner, who earned the title of "All-Tournament," and other senior captain Ella Ridinger are rallying the spirits of their teammates.
"We have a very similar path of playoffs as last year, so we have the potential of going just as far," says Hannah Brodner. Similarity optimistic, Rachel again adds, "This year we have a really good chance to go far in the playoffs and possibly even to go down state. I think that is the main goal for everyone at this point in the season."
The entire school is rooting for the girls' success, and they surely, in turn, would love support from the student body. The girls just won, this past weekend, the Class 4A Prosser Regional.  Congrats Girls Volleyball!
About the Contributor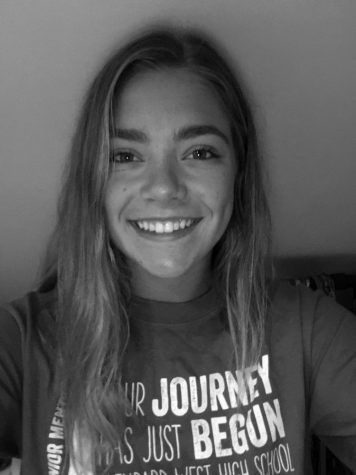 Mary Swikle, Social Media Coordinator and Staff Reporter
Mary loves writing for The Glen Bard and is now a columnist. She offers the inside scoop on all things West and spreads information directly from Student...