Varsity Boys Basketball pulls on teamwork, dedication going in to the season
Basketball is a game of fundamentals. The more shots you take, the more you dribble, the harder you work, the better player you will be. But what makes a team?
With how well Glenbard West did in last year's boys basketball season, it will be hard to improve upon it this season. The head varsity coach, Tim Hoder, says, "We have kids who love basketball. They work very hard and are very anxious to get going."
The team started their season with a 3-1 record, losing a hard-fought game to Glenbard North in a tournament championship, taking home second place. The top scorer this past tournament was sophomore Evan Taylor.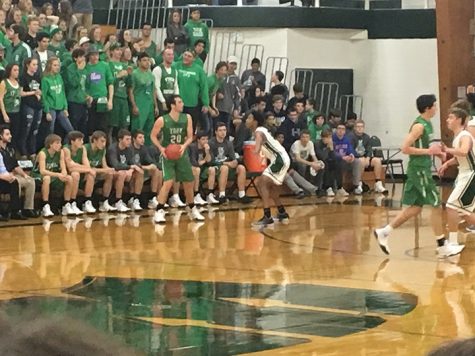 The team lost Justin Pierce to William and Mary and Alex Passi to the University of Alabama, their two top scorers of last season. Coach Hoder says, "[We'll] have to make it up on the defensive end of the floor. Focusing on rebounds and controlling the tempo a little more will make us successful." The scores of the games last year were very high and this season the team will, "Not have the luxury of trying to outscore teams."
The West Suburban Conference will be very competitive this season, says Coach Hoder, with, "Downers Grove North having the best team they've had in a long time and York being very good" and "LT [Lyons Township] is one of the favorites in the league," however, "competitiveness and enthusiasm" will set West's team apart.
The team has a bright future ahead of them as Coach Hoder says he "will be proud of this group and their efforts no matter what happens" and "the [overall] program is quite strong and we have some good groups coming up all the way down to the fourth graders" reflecting that "the Titans program overall is a huge part of any success we have at Glenbard West."
Throughout the season, we'll cheer on the teamwork and hustle West brings to the court.