A Flash Back To 1946
On November 18th, the Glenbard West Historical Society was given the opportunity to interview three members of the class of 1946. Out of a class of 205 students, only 43% are still alive.
Mary Lou Copp, Norma Bartizal and Esther Rossol are now eighty eight years old and have scarcely been to the school since their graduation. As the alumni walked back through the halls, we learned about their unique experiences they shared and traditions they celebrated that are still around today.
December 1941 the U.S entered World War II, one year later Ms. Copp, Ms. Bartizal, and Ms. Rossol entered high school. Throughout their high school experiences, the war played a big part in their daily lives. Lots of the students were able to get involved in the war effort by rolling bandages at Red Cross volunteer stations. All families helped by rationing any product that could be used across seas.
"We didn't drive to school because there was no gas," Ms. Copp shared with us. Instead the students enjoyed walking to school while the unused gas went towards the war effort along with meat, sugar, and rubber.
As the girls would walk to school, they saw that almost "Every house had a flag with a blue star, which meant somebody was in the service. Everyone, in a while, [would] see a gold star," which meant somebody in that household had been killed, said Ms. Copp.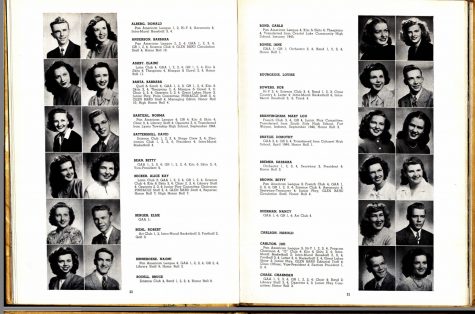 The three women talked about the sadness in the community over missing the many young men who were fighting in the war. In fact, as the women remember, on V-J Day, the day Japan surrendered on August 14, 1945,  a lumber yard that had been on the corner of Park and Crescent caught on fire. Instead of panicking over the fire, the town celebrated it as a victory bonfire.
To a lot of us, Fred L. Biester is just the guy that the gym is named after.  To the students of the class of 1946, however, he was the principal who lead Glenbard through one of its most troubling times. Biester started his career with Glenbard township in 1918 and didn't retire until a couple years after the 1946 alum had graduated.
The Glenbard we know today was hugely impacted by Biester's strong executive foundation for the school, and it is a rare account that we can learn about him from a prime source. Ms. Copp remembers him as " a very formal person… he loved the kids but you wouldn't always know it because he wanted to be very professional."
In fact, Biester once went all the way to Cornell University in Ithaca, New York just to help a student get into the school. Although he was stern, no one could doubt the devotion and love he had for the school. The students often poked fun at his serious facade, for instance one of fondest memories of the women of the Glenbard West legend was when several senior boys stood outside his office and began singing, "Happy Easter, Mr. Biester."
Although Ms. Copp, Ms. Bartizal, and Ms. Rossol grew up in a school where gym was only down the steps and ivy grew around the whole school and today we study on iPads and get our announcements by video broadcast, many of the events and activities offered at West are still enjoyed today. Ms. Copp shared with us that on football game days her brother would paint their car in big letters that said, "Beat York," or what ever team the Hitters were going up against that day.
In the fall, they would attend the "football dance," what we know as Homecoming, and Heart Hop/Turn-About in February. They also had several other small sock hops throughout the year where the girls would all pin up their hair and wear their fanciest white gloves.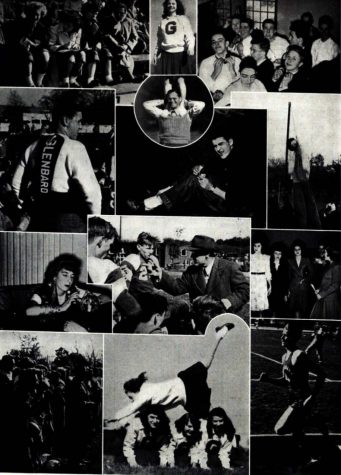 Another similarity Ms. Rossol noted was that there was a constant tardiness Glen Ellyn students who lived on the south side of the tracks in the morning because they were stuck by trains. Students would come pouring into the lobby past the first period bell and the administration would yell at them, "You knew the train was coming!"  Seventy years later, this problem still hasn't been solved
Above all, the most important tradition at West is the long-lasting friendships it creates. Two of the alumni, Ms. Bartizal and Ms. Copp, have now been friends over 70 years and have been in each others' weddings and are "aunties" to each others' children. High school may be only four years, but Ms. Bartizal and Ms. Copp are living proof that some friendships are forever.
In our interview with Ms. Copp, Ms. Bartizal, and Ms. Rossol, they took us back in time to a whole different Glenbard West, opening our eyes to the strong traditions the school has and how much of a privilege it is to attend a school with such unique history. As the three ladies grew older, they talked about how they cherished the time they had here, the friendships they made, and the opportunities they were given. They remind us that we may only attend Glenbard West High School for four years, but our experience here will stay with us forever.