A Review of the 2017 Grammy Music Awards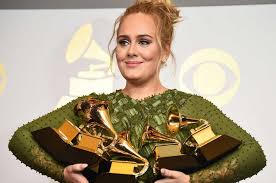 The Grammy Music Awards show inspires, evokes emotion, and entertains people all around the world. The 2017 Grammys were, once again, a huge hit.
The Grammys honor and award phenomenal achievement in the music industry. This annual ceremony recognizes winners of specific categories relating to music and features performances by well-known artists. Beyoncé, Alicia Keys, Chance the Rapper, Lady Gaga, Ed Sheeran, Katy Perry, Adele, and many more amazing singers led show-stopping performances this year.
Adele was a huge topic of the night. She racked up 5 different trophies. She won Best Record of the Year for her hit song "Hello," Album of the Year for 25, Song of the Year for "Hello," Best Pop Solo Performance for "Hello," and Best Pop Vocal Album for 25. She performed the song "Fastlove" as a tribute to George Michael.  She stopped her performance, though, because she messed up, asking permission to try again and give it another shot. Adele showed the world that even famous celebrities mess up sometimes. She taught everyone that it is okay to make a mistake and to ask for a second chance. Her performance inspires others to follow her example and always give tough situations a second shot. In her acceptance speech after receiving Grammy after Grammy, Adele basically stated that she does not deserve all of these awards. According to The Guardian, Adele said, "I can't possibly accept this award … I'm very humbled and I'm very grateful … but my artist of my life is Beyoncé. And this album to me, the Lemonade album, is just so monumental." She then broke her Grammy in half, giving one half to Beyoncé.
Many artists were nominated for awards in various categories. The songs "Hello," by Adele, "Formation," by Beyoncé, "7 Years," by Lukas Graham, "Work," by Rihanna, and "Stressed Out," by Twenty One Pilots were all nominated for Record of the Year, with Adele being the winner. Chance the Rapper won the award for Best New Artist along with Best Rap Performance and Best Rap Album.
Overall, the Grammys were another huge success this year. Adele made history by restarting her performance and by acknowledging Beyoncé and her tremendous talent. Many talented performers entertained those watching and many awards were won by various artists.