Theatre Fest creates memories, successes for student participants
Students from Glenbard West participated in a wide range of disciplines at Theatre Fest.
The annual Illinois Theatre Festival, or "T-Fest," is a statewide event for high school students.  Each year they produce an All-State production. This year it was Sweeney Todd.  Students from all over the state apply and audition to be part of the All-State production's cast and crew. 
In order to apply to be a part of Theatre Fest, a student has to be a thespian. According to senior Eleny Serna, being a thespian "means that you have worked in theatre for a hundred hours which equals ten points, and you have to go through an induction ceremony." 
About 30 of the students involved in theatre at Glenbard West had the chance to attend Theatre Fest from January 5-7, 2017, which was held at University of Illinois Urbana-Champaign.
Two Glenbard West students, seniors Caitlin Palmisano and Jacob Kelleher, got to be a part of the All-State production of Sweeney Todd.  Senior Caitlin Palmisano, the understudy for the Beggar Woman and a member of the ensemble, said, "Around 250 kids from around Illinois auditioned for the show, and the directors chose 35 of us based on our performance. The tech crew and orchestra also had an interview and audition process where the directors chose kids with great talent and great character, then they chose the full company that would make up All-State 2017 Sweeney Todd."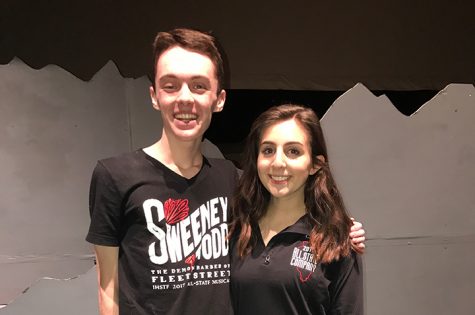 Palmisano continued, "The registration process was basically paperwork, an audition, and [then] a callback. To be in the production, you were required to turn in an official transcript and show that you were passing your classes – and keep it that way throughout the process. Some other official things were to be signed and then it was  up to the audition to decide. The audition was quick, and everyone was kind and encouraging. Some short days later, the callback list was posted and 100, or so, kids came back to show their talent one more time before casting."
For Jacob Kelleher, All-State stage manager, the "interview process was super cool." The Allstate Company is chosen based on two factors: experience and attitude.
"Essentially, I just put all the documents I have collected from my theatre experiences into a binder so I  could prove I actually knew what I was talking about. At the interviews, I had five minutes to showcase as much of my portfolio and personality as possible. At our first rehearsal weekend, I was named the sole stage manager," Kelleher said. He also had to submit a letter of recommendation from a director of a play he had previously worked on.
Five students from West's tech crew visited Theatre Fest and participated in Tech Olympics. They placed third overall. According to sophomore Yuvia Serna, the tech members "went in expecting nothing, decided last minute to compete."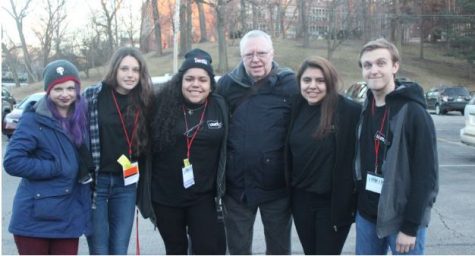 Serna noted, "The actors and business take [on] a big part of the production, but I truly believe it wouldn't be a good show without the tech."
The Tech Olympics comprised of different events like knot tying, crimping (done to make safeties so lights don't fall off), dressing an actor, sewing buttons, setting up tables quietly, and building and dismantling displays, setting the sound systems and cable relays. All were timed.
Junior Avery Williamson placed second in knot tying, and was deemed one of the best in crimping. Senior Eleny Serna placed first in knot tying.  Junior Katie Medic placed third in button sewing and sophomore Yuvia Serna placed fourth in table setting.
In order to participate in the Tech Olympics, West needed a five person team, so they grabbed Kyle Drexler, a sophomore who joined tech freshman year, as he was waiting for the show The Importance of Being Earnest to begin. "Since hanging out with tech was guaranteed to be a good time, I left during intermission," he said. Missing the second act of the play for Tech Olympics was "totally worth it," he added.
Junior Katie Medic said, "I got to try new things that I hadn't had the chance to try before. I got to meet so many cool people who are just as passionate about tech as I am."
Junior Avery Williamson said, "We come to tech every day and work on shows and do our thing but never before had I realized that what we did was special and something to be proud of."
Theatre Fest helped many students involved in theatre recognize their talents and see what other students around the state were doing. Regardless of which part of theatre Glenbard West students were a part of, they felt like a family at Theatre Fest and got to make friendships that would last a lifetime.