Speaking Through Silence: How Day of Silence Combats Bullying
Day of Silence began in 1996 as a way for LGBT and allied students to raise awareness for the community and the impact of bullying on LGBT students. In the 21 years since its origin, Day of Silence has grown into a multinational event encompassing tens of thousands of students. During this event, always a Friday in late April, students remain silent for the entirety of the school day as a means to echo the voices of those left silent by homophobic or transphobic acts of bullying.
And in a world increasingly divided by opposing interests and beliefs, Day of Silence serves as a necessary uniting factor to foster recognition and support for LGBT teenagers.
LGBT students remain one of the most at-risk groups for bullying, mental illness, and homelessness. Though national victories like marriage equality might help to promote a more positive national atmosphere, younger members of the community often feel powerless as they face bullies at school and online who many state laws may not protect them from.
As of 2017, only 17 states have outlawed bullying on the basis of sexual orientation or gender identity, and only 13 states have passed laws protecting LGBT students from discrimination. Fortunately, Illinois makes both of these lists, but there is still quite a ways to go before LGBT students are guaranteed the same level of safety as their non-LGBT peers.
According to a study by the Gay, Lesbian, and Straight Education Network (GLSEN), 85% of LGBT students have experienced verbal harassment due to their identity, and nearly 40% of LGBT students avoid bathrooms and locker rooms because of a fear of harassment. The high prevalence of anti-LGBT bullying in schools only cascades into bigger problems, like mental illness, high risk of suicide, low self-esteem, low GPA, and even a low graduation and college attendance rate for students in the community, according to a study by Parents, Families and Friends of Lesbian, Gay, Bisexual and Transgender People (PFLAG).
"This day reminds people who don't support the LGBT community […] about how LGBT people are mistreated," remarks Claire Mullenax, member of the Gay-Straight Alliance at Glenbard West.
The purpose of Day of Silence is to combat the discrimination and stigma surrounding young LGBT people and provide those in the community a support system while inviting reflection on what it means to be silenced by bullying.
Charlie Benidettino, member and officer of Glenbard West's Gay-Straight Alliance, says, "Day of Silence shows how many supporters there are, as well as highlights the struggle of LGBT youth who feel like they don't have a voice."
While the cause remains necessary, Day of Silence has sparked criticism for the use of a silent protest, which may not appear as effective as the picket signs and chants of typical protests. But in reality, a silent protest is just as effective and specifically caters to students who may feel limited in their activism due to school administration or their age. Moreover, the silence serves an explicit purpose in reminding non-participating students of the silence that results from a negative environment in which students are afraid to be themselves.
An anonymous Day of Silence participant explains, "Day of Silence is a day where we reflect and highlight the fact that the LGBT community has been ostracized in the past, and gives others the opportunity to realize the impact these people make in our daily lives. Without the members of the community, society would lose so many intelligent, caring, and influential people."
We are fortunate as Glenbard West students to belong to a school community with extremely supportive administration and a lively and active Gay-Straight Alliance, known as PRISM. While this environment allows students to protest and freely express their views, not everyone has this support in other areas.
"As a member of the LGBT community, I'm lucky to live in an accepting community but it's important that we're reminded of the high number of people who aren't as fortunate," says an anonymous member of PRISM.
And that, in essence, is why Day of Silence exists: not for the well-supported and out students around us, but for the students across the world who live in fear to exist as they are.
"Day of Silence benefits students on an everyday level because they can be aware of the community's struggle and know that they are not alone," adds Alexandra Perez, member of PRISM.
Albeit protesting with silence may seem contradictory, its role in bringing attention to the cause is imperative. Instead of driving the movement backwards, the silence echoes the voices of those affected by anti-LGBT bullying and, through that echo, unites us all as human beings.
Day of Silence is April 21st, 2017. Sign up in the cafeteria April 17th-20th.
About the Writer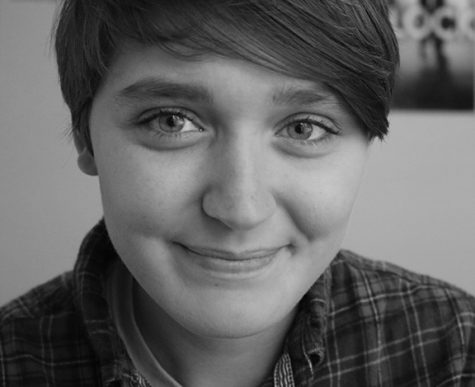 Carolyn Ford, Features Editor
Carolyn is a senior and has written for The Glen Bard for three years, however this is her first year on the Editorial Board. After serving as Editor-in-Chief...