West Teachers Vote: 5 Must-See Movies Before You Graduate
In need of a new novel to cozy up with? Talk to the librarians. Craving an exciting and vibrant new recipe? Check in with Guy Fieri. Wanting a new movie to watch? Hypothetically, you could simply Google up a list of hot and trending movies released in the past year. However, I completed the research for you! Below is an assembled list of top-notch films chosen by the best of the best: Glenbard West teachers. That's right! An all-star list of movies that every GBW student should watch before they graduate and leave their years at the castle behind them. In our educators' perspectives, we, as a generation of students, would not be complete as human beings without relishing in the vibes of the following films. In no particular order, here are some of our departments' movie recommendations:
Hidden Figures

– Math Department
Our school's sharpest thinkers within the realms of calculus, algebra, and geometry set their calculators aside and have together determined that all high school students should see Hidden Figures (2016). Following the story of a team of African-American, female scientists, this movie "has something for everyone…civil rights, the space race, and of course, smart women doing mathematics," said Math Department Chair, Ms. Williams. She adds, "Any movie in which Euler's Method saves the day can't afford to be missed!" Nominated for 3 Oscars, this movie is definitely a must-see for all students.
Big Fish

– English Department
The poets and dreamers of our teaching staff, under the direction of Department Chair Mr. Peterselli, debated relentlessly before arriving at a conclusion. Directed by Tim Burton, this early 2000s film follows the whimsical tales of a dying father's life as his son struggles to mend their relationship while simultaneously attempting to discern between his father's storytelling and his past.  In Ms. Kammes-Bumm's perspective, Big Fish is "a stunning example of magical realism, and its message about storytelling and truth is profound." Ms. Gwizdala agrees, explaining that "through a fantastic world, Big Fish explores the power of storytelling and how it can transform the way we see each other." Behind the scenes of films such as Batman (1989), James and the Giant Peach (1996), and Charlie and the Chocolate Factory (2016), director and producer Tim Burton never fails to entertain his popcorn-munching fans.
The Pursuit of Happynes

s – World Languages Department
Literally born and raised in West Philadelphia, Will Smith Jr. is always spectacular on screen. The only actor to have eight consecutive movies gross over $100 million in the domestic box office and have eleven consecutive films gross over $150 million worldwide, the Fresh Prince of Bel-Air surpassed incredibly high expectations in his 2006 film, The Pursuit of Happyness. Sra. Alajoki and her team agreed that the film is applicable to all students, as Spanish teacher Sra. Casey explains, "This movie demonstrates the power of grit and perseverance.  We voted for this movie also because we think it relates to the power of growing from mistakes." Keeping in tune with Glenbard West's emphasis on the growth mindset, our World Languages department befittingly decided on a movie that "ultimately shows how dedication leads to success," as put by Sra. Casey. ¡Gracias, maestros!
Forrest Gump

– Social Studies Department
With the same tenacity and format as a March Madness bracket, the Social Studies Department tackled this challenge with passion and grit – each wing of subjects fighting to protect their favorites. Ultimately concluding on an American classic, they determined the stellar performance of Tom Hanks in Forrest Gump (1994) deserves honorable, and well-deserved, recognition. This winding tale of history (from John F. Kennedy up to the Watergate scandal), through the perspective of a benevolent, Alabama man, has captivated audiences for decades. Recipient of 6 Oscars, Forrest Gump will leave every student with the nagging craving of a box of chocolates. To see the rest of the "Sweet Sixteen" movie options that didn't quite make the cut, check out the department's bracket below.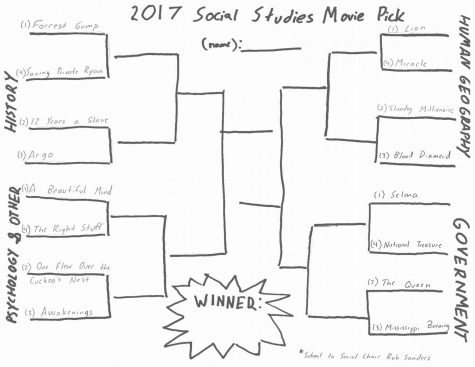 Planet Earth – Science Department
The first nature documentary series ever filmed in high definition, Planet Earth is a product of five years worth of filming and 11 episodes full of a myriad of biomes and habitats from all corners of the world. On behalf of the science teachers, department chair Mr. Byrne selected Planet Earth as the film all Hilltoppers should see, claiming "you can't watch this series without getting excited about the diversity of life on our planet. Whether it inspires you to learn more about plants and animals, film-making, or travel to other planets, it has something for everyone." Utilizing an intense bracket complete with 8 different genres, our greatest scholars in terms of chemistry, biology, and the beyond have also provided 31 more fantastic films worth diving into.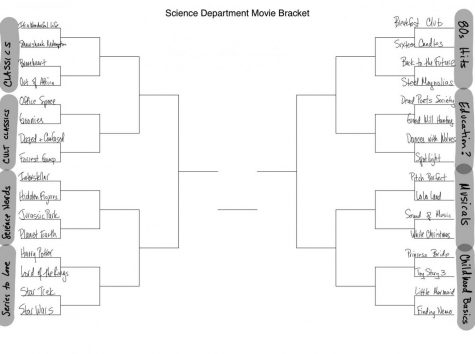 About the Contributor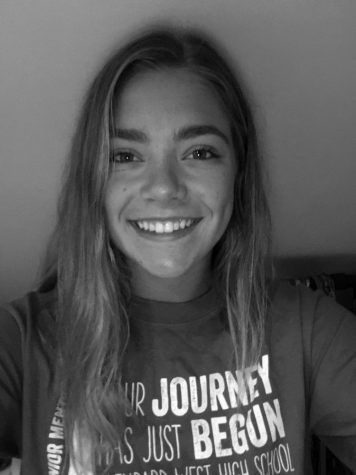 Mary Swikle, Social Media Coordinator and Staff Reporter
Mary loves writing for The Glen Bard and is now a columnist. She offers the inside scoop on all things West and spreads information directly from Student...