Coffee with STEM Inspires High School Students to Pursue STEM Careers
On September 26, Glenbard West welcomed the first speaker of the year to Coffee with STEM, an event, hosted by the STEM club, that brings in speakers from various STEM fields (science, technology, engineering, and math) in order to give students more knowledge on real career possibilities in the future.
Emily Gaertner, senior and co-president of STEM club, says, "It's important to gain a broader understanding of how STEM plays out in careers and professions because sometimes we think it's just scientists and that's all it can be, but that's not the case; there is so much you can do with it."
For the first event of September, Coffee with STEM invited Margaret Immink. She is a founder of the app known as Directory Spot, which is a provider of an online and mobile directory.
Speakers like Ms. Immink not only teach students about some of the possible difficulties of pursuing a career in a STEM field but also the many avenues to various STEM occupations. Mr. Byrne, the sponsor of STEM club and the Science Department Chair at West, states, "The story about how somebody gets to their job is oftentimes a very windy road and it's a really good lesson for people to know about."
STEM club – which was first started by previous Glenbard West students Claire Wild and Shay Kiker – plans an annual event known as Project I (also called Project Innovation) at Hadley Junior High, the local middle school.  This larger event features many more speakers across the multiple STEM backgrounds and gives younger students the chance to explore their own possible interests.
This year, Project I is set for Friday, February 15 during the school day. Project I has included a multitude of speakers from very diverse backgrounds. These speakers include but are not limited to: Dr. James Elliott of the Feinberg School of Medicine, speakers from the the Society of Cosmetic Chemists, Eric Voogd and Dr. Audrey Keller of the Chicago Veterinary Medical Association, Robbie Davidson from Robb Davidson Photography, and many more.
In reference to future plans concerning Project I, Emily Gaertner states, "Expanding Project I to as many middle schools as possible is the end goal, but right now, we are focusing on getting a strong foundation of presenters for the Hadley event."
The idea for a similar, smaller event, like Project I, specifically for Glenbard West students arose last year, which is how Coffee with STEM was started.
Concerning starting Coffee with STEM, Alexandra Farmer, senior and co-president of STEM club, says, "Emily, myself, and Claire worked on getting a few presenters that we had seen at Project I and we brought them in for the first time and it wound up working really well."  She emphasized the need for high school students to have opportunities to learn from others more experienced in STEM careers stating, "It's hard when you have high schoolers talking to high schoolers about this field that we don't even know everything about."
The first speaker of Coffee with STEM was George Petro of Play Mechanix, a video game company. Not only did he address his path to a STEM career, but also his daily work with business and technology. Previous speakers have included people like Mr. Haeffner, an engineer who has worked with particle accelerators at Argonne, as well as Ms. Buchicchio, a mechanical engineer.
On attending the event, Ashley Voigt, senior and executive board member of STEM club, stated that the presentation was extremely beneficial. "I am hoping to become a research psychologist in the future and it is one thing to envision yourself one way in a certain career, but it helps to talk and listen to people who actually have that job," says Voigt.
Arfa Hassan, freshman who attended the event, also enjoyed the "idea of meeting someone who went through the process of trying to pursue a career that involved STEM." She further states, "I most definitely hope to be in a STEM field one day and I think the event is so beneficial to students because many do not even know what career they want to pursue."
Emily Gaertner says, "Future plans [for Coffee with STEM] are just to get as many students as we can to show up and we get a broader variety [of speakers] when a lot of different people bring in their contacts and people they know."
Coffee with STEM is held in the morning before school on the third floor of the science wing and is usually every month on a Tuesday. The next Coffee with STEM is set for November 14 at 7:00 a.m., and will feature speaker Michael Palm, who manages the Infectious Disease Franchise at Abbott Molecular. The general STEM club meetings are also open to students interested, before school on Tuesdays.
Contact Mr. Byrne for more information at [email protected]
About the Contributor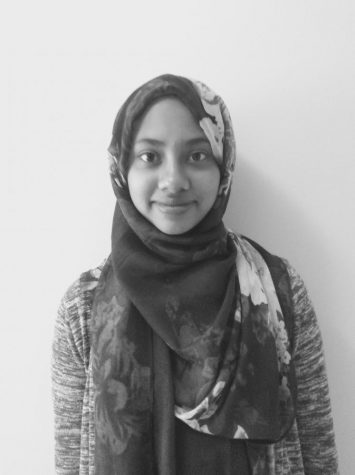 Aliyah Mohiuddin, Features Editor
Aliyah Mohiuddin is currently an editor and columnist for The Glen Bard. Her current column is called "Hidden Stars at West," featuring different students...