Heart and Soul Award Winners: A Snapshot of Each Recipient and All They Have Done for Glenbard West
Every year, the West student body has the opportunity to vote for a teacher or staff member who they believe has gone above and beyond, nominating them for the Heart and Soul Award. This 2017-2018 school year, three staff members have been acknowledged for their efforts and chosen as the winners of this award: Mrs. Fortuna, Mr. Kim and Mrs. Gladish. We wish to celebrate these individuals and the time and effort they have put in to positively impact the school.
Mrs. Fortuna, a special education teacher who has been sharing her talents here at Glenbard West for 23 years, was pleasantly surprised about winning the Heart and Soul Award, and it felt fantastic to be recognized. Mrs. Fortuna shared that her favorite thing about being a faculty member at West is her "students and team she works with closely every day."  Mrs. Fortuna stated, "I love that the students at West are very kind and accepting of diversity. I love the fact I can see diverse groups of students working together for a common goal as I walk the hall."  
Another recipients of the Heart and Soul Award this year is Mr. Kim, a chemistry and physics teacher. When asked about how it felt to win the award voted for by the student body, he mentioned he was extremely grateful to have received the Heart and Soul award especially thinking about the great staff at West. Knowing that this award is voted on by the students meant very much to Mr. Kim because he mentioned "it is a small indicator of the impact I am trying to have on the individuals in our school through teaching and coaching." Mr. Kim has been teaching at Glenbard West for four years. When we asked Mr. Kim what his favorite thing about being a faculty member is, he commented, "I love that I am surrounded by other excellent faculty members who push me to be better and grow as a teacher and individual. I absolutely love the community that West has built."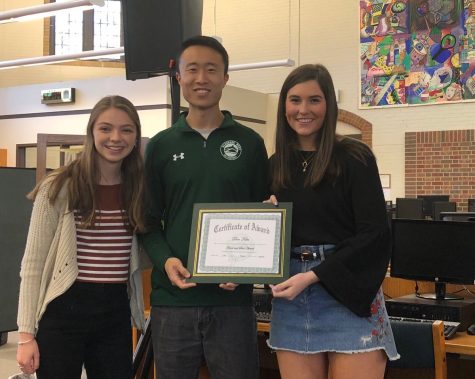 Overall, Mr. Kim loves that he is able to build lasting, meaningful relationships with people every single day he is working. When he steps back from all the chaos of work and life, having the ability to change a person's demeanor through interactions makes him appreciate the platform and opportunity he has as a teacher. The fact he enjoys his job makes sharing passions with his students so joyous. Mr. Kim ended by mentioning that the strive for excellence seen in Glenbard West is remarkable and sometimes overlooked since it is the norm at our school, but the people here make that "vibrant soul" of GBW so unique. 
Another faculty member who won the Heart and Soul Award is Mrs. Gladish, a member of school counseling at West. Mrs. Gladish expressed, "I am honored and very appreciative" when asked how she felt to win the award. Mrs. Gladish has been working at Glenbard West for eight years and her favorite thing about being a faculty member at this school is "The energy radiating from both the students and staff. We have such a helpful, nurturing staff that wants to help guide our students and I love being part of it. Working in School Counseling, I get to see students as freshmen and then as they mature into seniors." Mrs. Gladish also believes that the diversity is what makes the student body unique. She loves coming to work every day to a group of great kids at West. 
If you see these faculty members around school, thank them for their hard work and dedication.  They deserve it. The student body of Glenbard West is truly lucky to have such a caring faculty willing to help us through all the challenges that come with high school.