August Senior Spotlight
To kick off the school year, I chose Maggie Pasterz, Glenbard West Superfan, Student Council Executive Board member, and so much more, to be featured in my first "Senior Spotlight" of the year. Every month, "Senior Spotlight" will highlight a specific senior to learn more about them and their involvement at West. Let's find out more about Maggie and her role at West this upcoming school year.
Abby: I'm so excited to talk with you about your time at Glenbard West and your involvement in a wide array of activities. You seem to do it all! First of all, congratulations on being chosen as a Superfan for this upcoming school year. Can you explain what a Superfan is to those who may not know and what it is that you do?
Maggie: Yes! So, Superfans is a group of students with enough school spirit to act as the leaders of our athletics fan base. We pick out themes for the games, decorate the building, make posters, lead cheers, and, overall, keep the school spirit up in our student body.
Abby: What inspired you to apply to become a Superfan?
Maggie: Anyone that knows me knows that I don't do sports. I am the least athletic person ever. But, I love watching sports and being a fan, especially for West. I have wanted to do this since freshman year and I'm so excited to be a part of it this year.
Abby: In addition to being a Superfan, you are also a member of the Student Council Executive Board. What is your position on the board and what does this position entail?
Maggie: I am the Senior Liaison to the school board which means that I sit on a committee for the school board and communicate with them, acting as an intermediary between the students and administration. It's awesome to see the behind the scenes of how the school runs and just how many people it takes to run it.
Abby: What exciting activities does Student Council have planned for this year?
Maggie: Homecoming! Homecoming is going to be so much fun. I'm leading a spirit committee for that. We also have a number of socials, drives, and spirit weeks scheduled for throughout the year, so keep your eyes peeled.
Abby: What other activities are you involved in at West?
Maggie: I am everywhere. I'm co-president of Eco Club with Nina Crawford. I'm also in NHS, Theatre Club, MAWI, Senior Mentoring, and participate in all of the shows.
Abby: You seem to juggle so many activities successfully. How do you do this?
Maggie: Thank you. It's hard. I don't always do it successfully. But, I have to manage my time before and after school, as well as use the awesome support system that West offers. And, I'm a huge fan of the Castle Keys.
Abby: What are you most looking forward to this school year?
Maggie: I'm looking forward to having so much fun with my friends. I got super lucky in the friend department and I can't think of better people to have for my last year on the hill.
Abby: Where do you hope to go to college?
Maggie: I honestly don't know. I just hope I go somewhere where I'm happy.
Abby: What is your favorite memory at West so far?
Maggie: There's so many. My most favorite has to be planning the walk out last year. Ellie Sear, Emily Gibson, and I planned the walk out for action against gun violence, and seeing it come to life with 1,000 students leaving their classrooms to come to something we poured our hearts and souls into organizing was incredible. It still gives me chills.
Abby: What will you miss the most next year?
Maggie: I'm going to miss the community that is West. The staff and students make up this little world and I love it.
Abby: Favorite football theme?
Maggie: Murica, baby.
Abby: Favorite ice cream flavor?
Maggie: Chocolate. Or Cake batter.
Abby: What advice would you give to younger students?
Maggie: Try anything and everything. If you like something, do it regardless of if you're good at it or not. Also, make friends with Ms. Rosario down in Student Services. She is amazing.
Thank you so much for taking the time to share your Glenbard West experiences with us. We will all be excited to see the great things you continue to do!
About the Contributor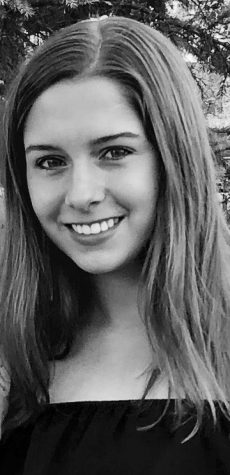 Abby Hoffman, Columnist
Abby Hoffman loves to write and has been involved in the newspaper since she was a freshman. She writes a Senior Spotlight column where she interviews...