September Senior Spotlight: Brennan Dougherty
Introducing Brennan Dougherty as this month's Senior Spotlight! Let's learn more about Brennan's role as President of the Theatre Club, as well as all of the activities he's involved in at West.
Abby: How long have you been involved in theatre at West and can you tell us more about the program?
Brennan: I have been involved with theatre since my freshman year at Glenbard West! One thing I love about theatre at West is that there are no age barriers between the grades unlike some sports that have a freshman team or require tryouts. Even if you don't make the shows your freshman year, there are so many other ways to get involved and meet new people!
Abby: Congratulations on being this year's Theatre Club President! What does this job entail?
Brennan: Thank you! As Theatre President, I oversee the theatre board which involves various positions such as social events, publicity, historians, and many others. As for the theatre board, we focus on the social aspects of the club and not so much the shows themselves (that is left up to the amazing business crew for each show). We coordinate club outings as well as holiday parties. This October, we are going to see Legally Blonde at the Paramount Theatre as well as [prepare for] our upcoming Halloween party and costume contest which is always a blast! We also fundraise for the club and run the meetings every Thursday after school.
Abby: For those who may not know, what is the difference between being involved in a show and being in Theatre Club, or are they one and the same?
Brennan: Theatre productions and theatre club are definitely two different things. The production aspect of theatre focuses on the three mainstage productions as well as the Blackbox student written shows. To be involved with the productions, you must apply for positions and audition if you wish to be a part of the cast. Additional positions are always available on the tech and business crew because we are always looking for extra helpers. The theatre club, however, is open to anyone and you don't have to be involved with one of the shows to be in the club! The club is where we get time to socialize and hang out outside of rehearsals. This includes all of the holiday parties, outings, and beginning and end of the year picnics.
Abby: We're so excited for another great year of shows! What's the lineup this year?
Brennan: We are starting this year with Guys and Dolls! This musical comedy is set in New York City and tells the story of a couple of crapshooters in the big city whose relationships get in the way of their gambling. Following Guys and Dolls, the winter comedy is Frogs directed by Mr. Moran. We will finish the year with the children's play, Still Life with Iris. Additionally, the Blackbox plays are student-written shows that will be selected after Thanksgiving break and performed this spring.
Abby: Do you have an all time favorite show and/or role at Glenbard West?
Brennan: There are so many to choose from, but one of my favorite experiences was bringing Godspell to the Illinois High School Theatre Fest my freshman year and sharing our show with other high schoolers from around the state. However, one of the most fun roles I've had at West was Prince Dauntless in Once Upon a Mattress my sophomore year.
Abby: How old were you when you starting acting and what was your very first role?
Brennan: The first musical I was in was Aladdin when I was 9 years old. I played Little Aladdin and was a younger version of Aladdin in a flashback. I remember looking up to the high schoolers in the show and it's crazy to now be a senior and acting in my last musical at Glenbard West.
Abby: Have you ever had an embarrassing moment on stage?
Brennan: When I was in The Addams Family, I was in 8th grade and played the role of Pugsley. The show ran over an 8 week span and throughout the run, my voice was progressively starting to change. Everything was fine, but the high note in my song kept getting harder and harder to hit. Finally, in one of our last weeks of shows, I couldn't do it anymore and I had the worst voice crack imaginable!! At least the audience got a good laugh out of it and they maybe even thought it was intentional.
Abby: I've heard a lot of amazing talk about Theatre Fest. Can you explain what this is?
Brennan: Every year, students who have been inducted into the Thespian Society as honorary thespians for putting in over 100 hours of work into Glenbard West Theatre have the opportunity to attend the Illinois High School Theatre Festival (what we call "T-Fest"). At the festival, high schools throughout the state are selected to perform some of their shows for students to see as well as various workshops. In addition, every year the Illinois All-State production performs for all attending the festival.
Abby: Auditions can be intimidating and you don't always get a role. What advice do you have for kids who may be intimidated to try out for a show?
Brennan: There is so much you can do to prepare for auditions. Some of the biggest things I do to get ready is research what the show is about. [I] watch the movie or YouTube clips of the play, and practice as much as I can. It is so important to be as comfortable with the audition materials as you can before going in because you never know what you are going to have to sing or read. It can be hard not getting the role you hoped for, but it is important to remember not to take it personally and know that there is so much more that goes into casting than just your talent. I always try to think of the show as a puzzle and sometimes your piece of the puzzle just doesn't fit. Never give up or lose faith in yourself.
Abby: What other activities are you involved in at West?
Brennan: In addition to theatre, I also sing in the GBW chamber choir. I am also on the Student Council Executive Board as Leadership, a part of Best Buddies, Senior Mentoring, NHS, and Mawi Leadership.
Abby: Have you had a favorite class or teacher at West?
Brennan: One of my favorite classes was AP Human Geography. I also really enjoyed physics, so much so that I am taking AP Physics this year. Some of my favorite teachers have been Mr. Moran, Mr. Neiss, and Mrs. Williams.
Abby: What's your favorite memory at West?
Brennan: My favorite memory has to be traveling to Spain last year over spring break. I had so much fun and the trip exceeded everything I could have ever expected. We hit so many cities and were able to see so many amazing things in such a short amount of time.
Thanks so much for your time Brennan. Break a leg this year!
About the Contributor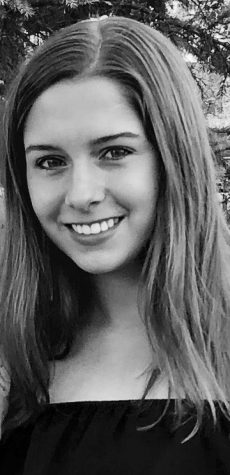 Abby Hoffman, Columnist
Abby Hoffman loves to write and has been involved in the newspaper since she was a freshman. She writes a Senior Spotlight column where she interviews...