Glenbard West Homecoming: A week full of activities and tradition
Homecoming day at Glenbard West is quickly approaching, and excitement in both staff and students is rising. A widely celebrated ordeal in Glen Ellyn allows students to have theme-filled fun all week long. Annual events like the Homecoming Pep Rally, lunchtime karaoke, and Woodchuck's bonfire, along with the newly added "Distinguished Alumni Award" mix tradition with entertainment — fundamentals ingrained in Glenbard West.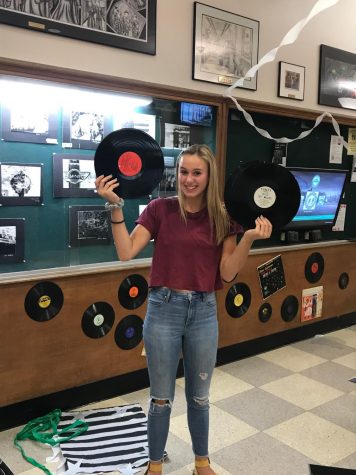 Theme days are as follows:
Monday: Pajama Day
Tuesday: Twin Day
Wednesday: USA Day
Thursday: 1950s Day
Friday: School Spirit Day
Each year, the Student Council and the administration team at Glenbard West prepare weeks in advance to ensure a exciting and safe environment for the community. "We have more surveillance and more security, that's something new to this year,"  says Glen Ellyn0 Police officer, Mr. Miko, " [This year's] class is a good one, so it should be fun."
Monday and Tuesday were an immense success with students from all classes participating, filling hallways with loungewear and identical outfits. Glenbard West had a movie showing of Back to the Future and lunchtime karaoke, allowing students to unwind and relax during their lunch periods.
Students looked forward to USA day – often the most participated day – in which they got decked out in red, white, and blue. Student Council head of special events, Caroline Morawski, says, "This year we tried to diversify our spirit day choices as well as keeping some of the student favorites."
Thursday begins with students emulating 1950s attire. Assistant Principal to Student Services, Mr. Mitchell, reminds students about the dress code at West and says, "Students should not be afraid to dress up, we try to strike a balance of safety and students having fun."
After the school day finishes on Wednesday, a long-standing tradition commences as clubs enter a hallway-decorating competition where they attempt to showcase creativity and school spirit while focusing on the theme of this year's Homecoming. Each hallway will be evaluated and prizes will be given to the best decorations. "It's always amazing to see how creative the students and clubs can be when decorating the hallways," says senior Sean Ahern.
Friday will be packed with events during and after school. "What I like about West's Homecoming is that it's not watered down at the beginning of the week," says Mitchell. "It allows for excitement to build up all week."
Students will dress up in different sport jerseys showcasing support for their favorite teams. During lunch periods, students can stop by Biester Gymnasium to take pictures in a photobooth.
Friday afternoon, the pep rally will really kick off Homecoming weekend. This year's pep rally will be packed with performances from the choir and dance team. Athletes will walk out and the much anticipated Homecoming court will be revealed. Homecoming king and queen will also be crowned.
New to the West this year is the addition of the Distinguished Alumni awards. English teacher and sponsor of the Glenbard West Historic Society, Mr. Wiersum states, "Glenbard West is celebrating 95 years and tradition is a huge part of the school." During the pep rally, a select amount of alumni are being honored and recognized for their accomplishments after receiving their highschool diploma.   
The largest attraction aside from the dance will be the Saturday football game with the Glenbard West Hitters (3-1) facing off against the Downers Grove North Trojans (2-2). "There will be alumni at this game and supporters looking on so there is a lot of pressure, but hopefully we will pull out with the win," says senior football player, Hank Knez. Everything during the Homecoming festivities leads to the football game, and to some it is the main event.
From the spirit days to the Distinguished Alumni awards, Glenbard West's Homecoming is a time of tradition and celebration. With so many new events that are apart of Homecoming Week, it is sure to create excitement for the students at West.