Hilltoppers You Should Know
Whether you're returning alumni or a freshman who just stepped upon campus, you'll find spectacular Glenbard West Hilltoppers no matter where you go. Many amazing people walked these halls, just like you, and went on to do great things. What others might have once considered impossible has now been achieved by these people. Here are just a few instances of Hilltoppers who have truly lived up to the Glenbard West motto of "Excellence."
When asked about Glenbard West's most notable Hilltoppers, Mr. Wiersum, sponsor of the Glenbard West Historic Society and English teacher, couldn't help but discuss the many astounding Hilltoppers who walked our very halls and now have become alumni.
At all times, the Historic Society is continuously searching for more students who are the missing pieces of Glenbard West's history. The time and effort that is put in is often laborious, but rewarding for the many students and community as a whole. Recently, the Historic Society searched for the name and face of the first African American to graduate West, and instead, found two. 
Edgar Mitchell was the first to be found, who "graduated in 1949, was on track, [and] played football. [Later] he became a principal at a school in Vancouver," explained Mr. Wiersum. Some time later, they stumbled upon his brother, Everett Mitchell, who graduated 2 years earlier in 1947. Mr. Wiersum now says that he's "just going to credit the two Mitchell brothers as being the first African American boys to go here for all four years and graduate."
The Glenbard West Historic Society is now trying to uncover and honor the first minority homecoming/prom king and queen. The investigation is still ongoing, but they feel they are close as ever to the answer.
For as many great stories as we hear about the things which our alumni do which bring joy and hope to our hearts, there are also many great stories which brings tears to our eyes. John Bruce Capel, or "Bruce" as his friends knew him, held one of these stories. Mr. Wiersum said Capel "went to U of I [University of Illinois] and won the Rose Bowl with Dick Butkus" in his youth.  Capel, the "Chicago Hall of Famer," was called to service in Vietnam where he served his country and died for what he believed in.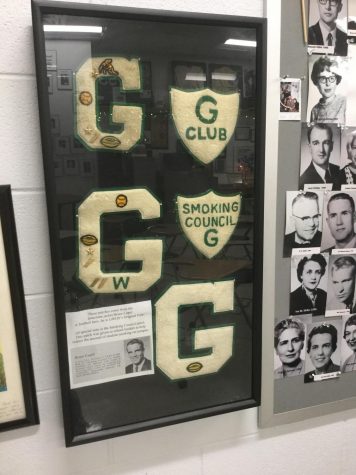 His death lead to the creation of the Hitter's Award, which we still respect to this day. His memorial stands next to the aptly named Memorial Field to remind each student about his sacrifice and bravery every time they pass by. Capel represents what it means to be a Hilltopper in school and beyond.
One Hilltopper, among many, who graduated and came back to work at West is Carol Durant. Dr. Monaghan, West Principal, explains that even though she retired two years ago, she continues to come support at many of West's events and activities. He says, "[Mrs. Durant] continues to come to everything here […] Glenbard West is just a part of her life."  He goes on to say how so many of the people who have attended West and work at West are "interested in the school and they promote the school and they are our cheerleaders." 
While there are many students such as these who we have honored and continue to honor, there are many more who are equally as honorable who may not be formally recognized. Students doing everything from service projects, to challenging themselves, to building each other up. Dr. Peter Monaghan expresses the pride he has being the principal of so many outstanding students. Occasionally he'll highlight a specific student, however he says, "I feel kind of guilty even doing that because I know there are kids who go through this school all four years and no one ever does anything like that for them."
Glenbard West students have always been great and they always will be. Whether they are creating milestones, serving our country, or doing seemingly unnoticed great things for themselves and their school, Hilltoppers are making differences. After all, their excellence is our tradition.