National Merit Semifinalists: Students Share their Opinions on the PSAT/NMSQT, the College Search and High School Opportunities
Each year, students nationwide take the PSAT/NMSQT Test to earn scholarships, national honors, and receive recognition for their accomplishments. This prestigious honor is reserved only for the top percentages and scorers on the test nationally.
This year, Glenbard West had eight National Merit Semifinalists. This means that eight of our very own were selected as top scorers on the PSAT/NMSQT while taking the qualifying exam as juniors.
To both congratulate and discuss their accomplishments, I spoke with two of the commended students, seniors Samra Haseeb and Peter Blatchford, to gain their perspective on the test, what it is like, and how they went about preparing for the exam.
Samra Haseeb – senior, National Honor Society President, and Forensics Board Member, among other things – shared that she was "pretty surprised and confused when I first got the pass to go to the principal's office because I never really know what to expect, but luckily it turned out to be good news."
Additionally, Samra explained that "having taken the PSAT as a junior, students are automatically eligible to be accepted into the National Merit Scholarship Program, which offers scholarships to seniors that they can use towards paying for college. Being a semi-finalist essentially means your score on the PSAT was high enough to cross the first threshold in the process of being named a finalist awarded with money. Out of the 16,000 semi-finalists nationwide, about 7,500 are chosen as merit scholarship winners in the end."
With results such as these, many would think that there is some strategy or "secret" when it comes to scoring well on these standardized tests. Samra shares that "familiarizing oneself with the format of the test is always super beneficial." From completing multiple PSATs to just merely practicing similar test formats, being most prepared is being most familiar with how questions will be synthesized and questioned.
Beyond standardized testing, the college hunt has already commenced. Although Samra does not know where she will be continuing her academic career, she is "not yet quite set on anything in terms of what I want to study, but as of now I would love to pursue a career in law—more specifically public interest law."
In closing, Samra left fellow students and upcoming peers with some advice, stating that "there are so many lessons always to be learned—and so much that I still have yet to learn—but it is so worth it to work hard and move forward through all the good and bad. Challenges are inevitable, but we progress so much more as people when we put forth the effort to make the most of everything that comes our way."
In addition, fellow senior, athlete, and National Honor Society member Peter Blatchford also shared his viewpoint on the exam.
Similarly, Peter "was a bit surprised to receive this award, mostly because they take so much time between reporting your score and actually giving you the award." Not knowing the "cutoff score" and the long time between taking the test and the release of those selected caused Peter to almost forget about the exam completely.
Peter also went into detail about the selection process and elaborated that "being a National Merit Semifinalist is based on your PSAT scores.  There is some formula that combines the different components on the test to create a cutoff, and if you scored above that then you are given the award.  There's a quick application to become a finalist based mostly on your SAT score and an essay that I just completed, and if you qualify as a finalist most colleges give you a scholarship."
Almost identically, knowing the test is very important to Peter. The format of the test is specific and unique, and "knowing stuff like if points are taken off for wrong answers is really important, and it's also good to have a plan for the timing."
In regards to future involvements and fields of study, Peter expressed that he is "leaning towards a major involving environmental science, but as for where I want to go I still have a lot to figure out.  I have to narrow down my list a lot, but if I had to pick my top two it would probably be Santa Clara in California or Tufts in Boston if I can get in."
To end, Peter lent some advice about high school and scholarships in general, stating that students should "take advantage of every opportunity you can. A lot of students don't really realize what the point of the PSAT is or don't think they'll end up getting any scholarships. I thought the same thing, but I made sure to still try hard on it, which really paid off down the road because now I have a good chance to get a lot of my college paid for."
Thank you to Samra and Peter for your perspectives, opinions, helpful points, and advice on the PSAT/NMSQT, the college process, and on the high school experience! Good luck to you both and the entire Class of 2019 in their college searches!
About the Contributor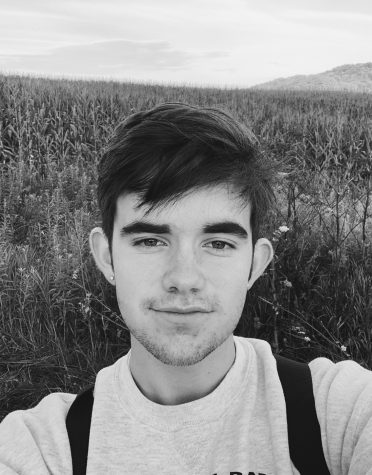 William Hohe, Co-Editor-In-Chief
William is currently a senior and is thrilled to be apart of the Glen Bard Editorial Board for his fourth year as the Co-Editor-In-Chief. Besides writing...