Crazy Rich Asians: Movie Review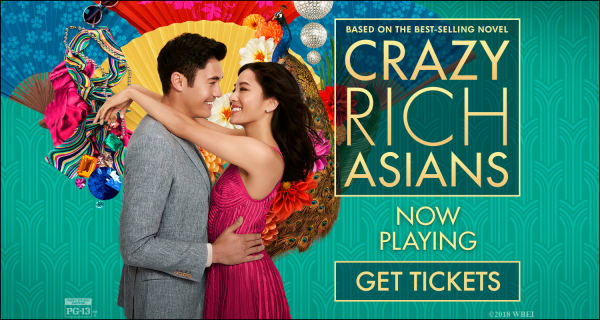 A new rom-com is taking the film industry by storm as it racks up nearly 144 million dollars worldwide in the box office. Crazy Rich Asians, directed by Jon M. Chu, is a representational, hilarious, heartwarming, and must-see film.
Originally based on the book written by Kevin Kwan, the film mostly takes place in Singapore, but begins in New York. Rachel Chu, played by Constance Wu, is a successful economics professor at NYU. Her boyfriend — Nicholas Young — played by Henry Golding, wants to take her on a trip to Singapore for a friend's wedding and to meet his family. When Rachel lands in Singapore, she discovers that her boyfriend is not just rich, but crazy rich. From there, the plot unfolds as Rachel Chu battles with the socioeconomic differences between her and Nick's family. She also encounters an obstacle: winning over Nick's mother who doesn't seem to like her.
The entire movie is filled with tear-jerking moments and hilarious scenes in nearly equal measure. Rachel's best friend, Peik Lin, played by Awkwafina, is a humorous character and brought lots of laughter into the theater. Her care-free and fun attitude made her character a favorite for many viewers. In contrast, the film also had its fair share of emotional moments that left many audience members in tears. To add to the mix of emotions, the portrayal of the lives of the "elite" is truly spectacular. The elaborate estates, dresses, and parties were breathtaking and left the audience in awe.
More specifically, the wedding scene of Nick Young's best friend cost $40 million. The wedding took place in  a beautiful chapel covered in flowers The scene began with Kinna Granis' amazing rendition of "Can't Help Falling In Love With You" followed by the entrance of the flower girls and ring bearers whos' adorability had the guests sharing smiles. Then, a stream of water flowed down the center aisle of the chapel in precedence of the bride's entrance. Each guest held a flower in their hand and stood as the curtains parted to reveal the gorgeous bride. She walked down the aisle decorated by flowers and water as the guests of the wedding, and members of the audience, cried tears of joy at the love that filled the room.
The costumes, done by Mary Vogt, were meticulously hand-picked and researched. She collaborated with the author of the book, Kevin Kwan, to find inspiration. The beautiful blue dress worn by Rachel Chu in the wedding scene was actually chosen by Constance herself from Marchesa. The dress originally came with sleeves, but were cut off so that she could have more of a "Cinderella moment." While this dress was more modern, ancient chinese culture was also incorporated into the costumes. Towards the end of the film when Rachel is playing mahjong with her fiance's mother, she wears a dress that reflects patterns commonly found on ancient chinese pottery.
Not to mention, Crazy Rich Asians is a transformational movie for many asians in real life. Having an all Asian cast hasn't been done in Hollywood since 1993 (see The Joy Luck Club), and should be very inspiring to lots of Asian-Americans. In many ways, Crazy Rich Asians is like the Black Panther for Asians, relating to a population that has not been represented enough in the film industry. While it does not represent every Asian background (as that would be impossible to expect), the film tackles many stereotypes and should prove to be revolutionary in Hollywood.
Crazy Rich Asians will make you fall in love with rom-coms all over again. With the obstacles blocking their love, will Rachel Chu and Nick Young beat the odds, or end up broken-hearted? See Crazy Rich Asians now in theaters to find out.