Fantastic Beasts: The Crimes of Grindelwald Review
Although the Marvel Cinematic Universe and Star Wars respectively have grown to be the highest grossing movie franchises in history, not too far in the past this story was different. It was only a few years ago when the Harry Potter franchise broke all records to become the highest grossing franchise in history; however, it has now fallen down to third place behind the two previously mentioned behemoths of the box office.
It seemed this fall would only continue as it appeared that there was no more story to tell (but that's never the case when there's money to be made, is it), until J.K. Rowling, the progenitor of the so-called Wizarding World, announced a new franchise starting with Fantastic Beasts and Where to Find Them. This new franchise was to be centered around Newt Scamander (Eddie Redmayne), a sort of magical zoologist (magizoologist?) with a suitcase of magical creatures. As a huge fan of the books and films growing up, I was certainly very excited at the prospect of more magic on screen. Upon its release, it unfortunately received many negative reviews; however there was an equally significant following of praise spearheaded by many loyal fans, myself included. I absolutely loved the first installment of this franchise, and was incredibly excited for the second rendition of the Fantastic Beasts name.
Although, this excitement was not without its reluctance – the casting of Johnny Depp as wizard-supremacist and Albus Dumbledore's enemy/lover (yes, he is both) was mildly worrying (to put it lightly), as he is highly susceptible to the odd terrible performance. The decision to have Rowling continue as the screenwriter was also slightly worrying, as her prowess unquestionably lies in novels rather than the totally different prospect of script writing.
With all of this in mind, the film's plot goes as follows: in order to combat Gellert Grindelwald's (Johnny Depp) scheme of raising pure-blood wizards to rule over all non-magical beings, Albus Dumbledore (Jude Law) mobilizes his former student Newt Scamander (Eddie Redmayne), who agrees to fight for the cause, oblivious to the many dangers that may await him. Lines are drawn as loyalty and love are put to the test, even among the closest friends and family, in an increasingly divided magical world.
The response to the film from critics and a lot of fans as well was overwhelmingly negative. Although you may expect such a reaction from a large portion of the unfortunately now putrid Star Wars fanbase, we have never really seen a reaction like this from the almost equally vast Harry Potter fanbase, despite some mixed reactions for the previous installment. Of course, in these days of sensationalism and overreaction, this disdain has often been turned onto J.K. Rowling herself, with many fans declaring that quality is no longer of any concern to her and she just wants another big paycheck (which, frankly, is a ridiculous statement, as she's literally a billionaire).
Despite these more shameful reactions, there were many legitimate complaints to be had about this film. Although Rowling's screenplay for the first installment of the franchise was legitimately good, this time around it felt like it yet had to be transitioned from a novel to a script. The film often felt jumbled and jumped around frequently, often to dizzying effect. A few performances weren't particularly great either, especially Ezra Miller, Zoe Kravitz, and a few others. A few characters also were perhaps given a little too much screen time; I'm singling out Dan Fogler as Jacob and Alison Sudol as Queenie here. Their characters are great and their performances were fine enough, however their placement often disrupted the tone of a particular scene, or at least what it should have been. There were some moments of heavy backstory and exposition that hurt the pacing of the film at times as well.
These were all legitimate problems with the film, yet there is still a lot of positives to take away from the film. Eddie Redmayne, Katherine Waterston, and Jude Law were all fantastic in their respective roles, and Johnny Depp was fine enough, which is actually an enormous success considering how susceptible he is to an absolutely movie-killing performance. The magic of this film was much more, well, magic, than we saw in the previous film, and carries a grandiosity that other films in the entirety of the Wizarding World franchise lacked. The moments between the core cast continued to be as marvelous as anticipated, and the creatures were great as always. Plus, Hogwarts is a key aspect of the film once again (not a spoiler, check the trailers), which is a sight everyone was happy to see regardless of their opinion of the film.
When taking into account all of the pros and cons of the film, as a whole the film is nothing more than average at best. Certainly not deserving of the barrage of hatred that it has been receiving, yet equally as undeserving of any sort of abundant praise. In my opinion, much of the negativity surrounding this film is rooted — inadvertently — in nostalgia. We tend to remember things we loved in our past with a warmer glow than perhaps is deserved, as we associate these them with only the joyous memories, as everything else has been pushed out for lack of space. Not every Harry Potter film is a masterpiece, or even particularly good. Not even every Harry Potter book is a masterpiece, or even particularly great, and yet we all love them all the same. The cream rises to the top. Like many of the Harry Potter films, this one is simply another cog in the wider franchise. With five films already being planned for this franchise, it was necessary at some point for one of them to act solely for the purpose of driving the larger story, and I believe that is what this film seeks to achieve. I don't particularly like that idea, but I understand its necessity and can move on to the next one with optimism. I hope the rest of the Harry Potter fanbase can do the same. Three stars out of five.
About the Contributor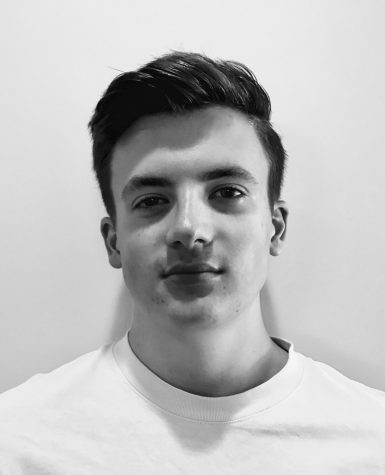 PJ Knapke, Columnist
PJ Knapke is a senior at Glenbard West and a Columnist this year for the newspaper. His focus on is on film-related content, particularly reviews. He is...