Making Waves: Kate Morris & the Glenbard West Girls State Swimming Meet
This year, the IHSA Girls State Swimming and Diving Meet featured an array of Glenbard West Swimmers. Most notably, Kate Morris, a sophomore here at Glenbard West, competed in three events – one relay, two individuals – coming away with three all-state medals.
Kate Morris is not a stranger to swimming. Last year, she placed third as a freshman in the 100 Yard Freestyle.
However, this year, she was back again to take her shot at a potential state championship win.
Kate was first in a relay along with junior Madi Field from Glenbard East (Glenbard East and West have a combined swim team), senior Jane Denenberg, and senior Megan Murphy.
The four-person squad came away with a seventh place finish, with a time of 1:44.99 in the 200 Yard Medley Relay.
Later on, Kate took on her two solo events: first the 200 Yard Freestyle and then the 100 Yard Freestyle.
When asked about the race, Kate said, "It was probably one of the most painful races in my life." Still, she stated, "It was really rewarding and fun."
In the first event, Kate took the first 50 yards out in a 25.46, only a few milliseconds behind then first place, Macy Rink from Bloomington. Into the halfway mark, Kate passed in 52.70, yet again only a stroke or two behind Macy Rink. Yet, with only 50 yards left, Kate was ahead of Rink. As she finished the last 50 and made her way to the wall of the pool, the time was 1.49:81: she was the State Champion, with Bridget O'Leary of Barrington in second, Jessica Davis in third, Rachel Stege in fourth, and Rink a distant fifth.
Kate explained her strategy and narrated portions of the race, saying it "was close at the beginning and took the lead towards the beginning of the race and half a second."
Since starting swimming at 8 years old, Kate "was over-the-moon excited" with the result of the race. 
Onward, Kate took her last swim in the state meet with the 100 Yard Freestyle and took fifth with 50.57.
Congratulations to not only Kate Morris but the entire conjoined Glenbard swim team on their historic effort at the Girls Swimming and Diving State Meet!
About the Writer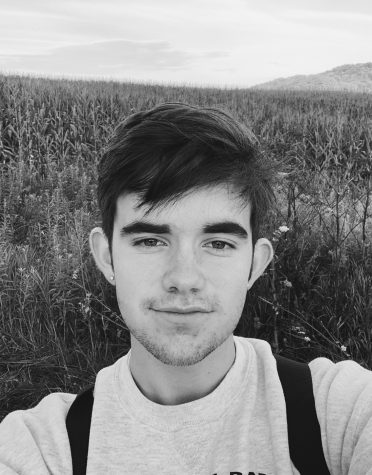 William Hohe, Co-Editor-In-Chief
William is currently a senior and is thrilled to be apart of the Glen Bard Editorial Board for his fourth year as the Co-Editor-In-Chief. Besides writing...