February Senior Spotlight: Amanda Morris
We're kicking off the new year with February's Senior Spotlight, Amanda Morris. Let's learn more about Amanda's experience at Glenbard West!

Abby: You have been a cheerleader at GBW all four years. We'd love to learn more about the cheerleading program. What events do you cheer for and when do you practice?
Amanda: We practice every day before or after school. During the fall, we cheer all of the football games, both home and away. In the winter, we cheer a lot of the boys basketball games, usually alternating with the dance team.
Abby: Congratulations on being a Team Captain this year! What are your responsibilities?
Amanda: Thank you! I represent cheer on the Leadership Council, but at practices and games, I share all of the leadership responsibilities with all of my fellow seniors (Bella Braun, Leylah Heredia, Hanna O'Brien, Keyana Napper, and Eduardo Hernandez). This entails leading warm-ups and stretches, keeping our team focused and positive during practices, helping our coach during and after practices, and also helping decide what we wear to school when we have games.
Abby: Can you also explain the competition aspect of cheerleading? What does that entail and who do you compete against?
Amanda: Yes! We compete all throughout December and January. Our practices are a lot harder and we focus more on perfecting our competition routine. This routine is similar to something we would perform at a pep rally, but with a lot more difficulty added to it. We usually compete every weekend during this season. Competitions are held at high schools around the state, and these days usually last 8-10 hours. We compete against only coed teams.
Abby: Speaking of competition season, congratulations on making it to State this year! What an awesome accomplishment! Can you tell us about the moment you found out? Also, when is the State competition and who is your biggest competition?
Amanda: Thank you so much! In order to advance to State, we had to place top 5 in our sectional of 13 teams. We really didn't know if we would make it because we were up against a lot of really talented teams, but our hard work paid off and we placed 5th! Our team hasn't made it to state since I've been at West, so it was really special to make it my senior year. Thinking about the moment we found out still gives me chills. As soon as we heard them announce the G in Glenbard, we went crazy! State is held in Bloomington, IL during the first weekend of February. The coed division gets harder every year, and some of the best teams this year are Belvidere North, Grant, and Plainfield South.
Abby: Wow, that's awesome! What age did you begin cheering?
Amanda: I started cheering for the Golden Eagles when I was eight.
Abby: What advice would you give to anybody who may be interested in cheering at West? Do you need experience or any other requirements?
Amanda: My biggest piece of advice would be to just go for it! Everyone on the team is so welcoming, so it's definitely not an intimidating environment. You do not need any experience to try out for cheer at West, and we're super lucky to have some amazing coaches (both JV and varsity) that are very willing and excited to work with help students grow as both people and athletes.
Abby: What other activities are you involved with at Glenbard West?
Amanda: I'm one of the co-presidents of the Principal's Advisory Board, a member of Target Success and MAWI, and a tutor in The Write Place!
Abby: Do you have an embarrassing moment in high school?
Amanda: At every Back to School Pep Rally for the last few years, the music that plays during our routine has shut off in the middle of our performance. It always works fine when we warm up, but when the time comes to perform it always shuts off halfway through! It's always really scary and embarrassing in the moment because we never know how to react, but it's funny afterward because we still can't figure out how to break the curse!
Abby: Favorite tv show?
Amanda: Gilmore Girls and The Bachelor are my top 2!
Abby: Have you made a decision about college yet?
Amanda: I still have to go on a few more visits, but I've narrowed it down to the University of Wisconsin-Madison and Indiana University in Bloomington.
Abby: What will you miss most about Glenbard West?
Amanda: I'll definitely miss the school spirit! I know that's what everyone says, but the atmosphere at home football games on Duchon is unforgettable. I'll also miss seeing my friends every day before class in the hallways. There's no way I would have made it through these four years without them!
Thanks so much, Amanda! We loved learning more about your time at West!
About the Contributor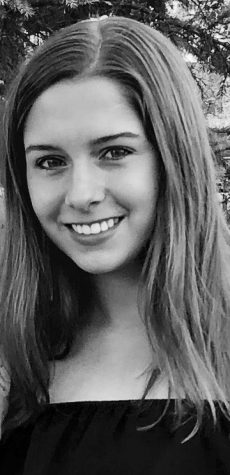 Abby Hoffman, Columnist
Abby Hoffman loves to write and has been involved in the newspaper since she was a freshman. She writes a Senior Spotlight column where she interviews...