March Senior Spotlight: Ellie Morrison
Congratulations to Ellie Morrison on her National Merit Commended Scholar award! Not only is Ellie an academic at Glenbard West, but she is also an athlete and much more. Let's find out more about Ellie and her time at West!
Abby: What activities are you involved in at West?
Ellie: I play on the tennis team and I am a member of Key Club, Best Buddies, NHS, Fashion Club, MAWI, and Target Success. I also joined choir this year and I am a senior mentor!
Abby: You also find time to participate in One Voice, a choir group not directly connected to the school. Can you explain what this is to those who may not know?
Ellie: Yes! I've been in One Voice all four years of high school. We rehearse weekly and then visit local retirement homes and convalescent centers every month to sing for and talk with the residents. They tell us interesting stories or give good advice. Last week someone jokingly asked me if I had dentures or real teeth.
Abby: What advice do you have for managing challenging AP classes?
Ellie: I think the best way to manage AP classes is to be proactive in planning your time, but also to just be engaged during class. It's true that AP classes can be a great way to challenge yourself, but my advice is to take classes that interest you because the work will seem easier if you enjoy the content.
Abby: You seem to do it all! How do you balance a challenging schedule among other activities?
Ellie: I make a lot of lists, but some weeks are better than others! Sometimes the hardest part for me is just getting to school by 7:35 a.m.
Abby: What has been your favorite class and favorite teacher at West?
Ellie: I've really loved so many of the classes and teachers I have had, but my favorite class was probably English last year with Mr. Neiss. It was a really nice group of people and I always enjoyed being in such a supportive and fun learning environment. Some of my other favorite teachers have been Mr. Staron, Mrs. Shanahan, and Mr. Kim.
Abby: Favorite memory at West?
Ellie: There have been so many memorable moments, but one of my favorites was playing my last tennis match with my sister Kate who was a sophomore on the team this year. It was the only time we were able to play together and it was a memorable last match!
Abby: What will you miss the most next year?
Ellie: Beyond all of the fun traditions, clubs, and sports, I'll miss the people at West most. There are so many passionate, kind, and interesting people throughout the building from students to teachers and other faculty members. I feel so lucky and sentimental that it's already my last year here.
Abby: What advice would you give to younger students?
Ellie: Make the most of your days at West. It can be so easy to just go through the motions, but it is so much more fulfilling to try new things and meet new people.
Thanks so much Ellie! We loved learning more about you and your time at West!              
About the Writer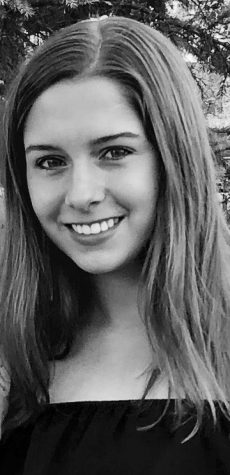 Abby Hoffman, Columnist
Abby Hoffman loves to write and has been involved in the newspaper since she was a freshman. She writes a Senior Spotlight column where she interviews...