Consequential Meme or Aim for Attention: The Fiji Water Girl from the 2019 Golden Globes
January 6, 2019 might have been any typical Sunday for the average American, but for the celebrity elite in Los Angeles, the Beverly Hilton is a mecca for the stars of screen and song for the Golden Globe Awards. The stars present and receive and their names are forever remembered for their roles as actors, actresses, both supporting and main, along with work in film and TV shows overall. However, one true star of the show was not seated in the audience, but flaunting her way down the red carpet, with her Fiji ® water tray.
Who is this girl and how did she manage to get in almost every SINGLE photo? Kelleth Cuthbert is her name, but her accolades were unknown in the eyes of Hollywood. However, her seemingly spontaneous stunt was actually a calculated pursuit for advertisement. As Jennifer Earl of foxnews.com notes in her article, "Who is Golden Globes' Fiji Water girl, Kelleth Cuthbert? What to know about the viral photo-booming model", Cuthbert was prompted by the Wonderful Company, the owners of the Fiji Water brand adorned the skilled model Cuthbert in a  blue Marchesa Notte gown with a tray of silver to hold their precious products. As she is a Los Angeles model, she was told by Fiji to do exactly what she did, "It's all strategic. You've got to angle". However, she was not alone, there were four in total in the band of the "Fiji Water girls!" The model and in all her 5 foot 9 inch gory stood with her three other models to advertise the brand.
But, the story turns sour after the lights go down on the 76th Golden Globe awards. As Megan Cerullo notes in her article for CBS News, this Los Angeles Model form Canada is now in the midst of a lawsuit against the Fiji Water Company. Regardless of her mantra to "serve looks" on the red carpet, the Fiji water girl is apparently upset with her treatment in affiliation with Fiji. Her model status and promotional face has been turned into a meme. The company, she claims, was planning to use her face for cardboard cutouts for grocery stores and across markets worldwide, without her permission. Her legal team she is currently advised with claim that over 12 million dollars have been gained from her exposure. More is to come as water meets water girl in the courtroom soon.
About the Writer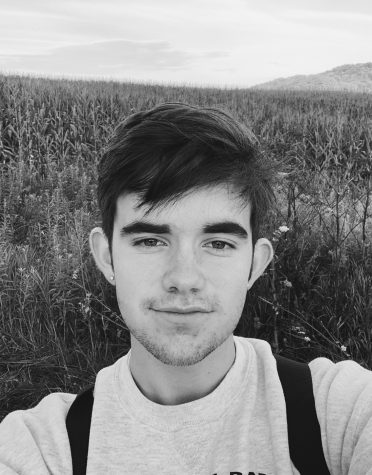 William Hohe, Co-Editor-In-Chief
William is currently a senior and is thrilled to be apart of the Glen Bard Editorial Board for his fourth year as the Co-Editor-In-Chief. Besides writing...