Outstanding achievements, extreme passion earn Dr. Monaghan Principal of the Year award
This February, Glenbard West's very own principal, Dr. Peter Monaghan, received the DuPage Illinois Principals Association Principal of the Year Award. This momentous achievement is given to "outstanding high school leaders who have succeeded in providing high quality learning opportunities for students" across Illinois, according to the Illinois Principals Association (IPA) website. IPA accepts nominees who demonstrate "creativity and imagination in bringing about positive change" and who ensure "the school climate is positive and reflects high staff and student morale."
Dr. Monaghan was gratified and amazed by his receipt of this award and said, "I was totally shocked, of course" but added that he was "flattered and honored."
"It's a great honor for me, but it's also a reminder of what happens here [at West] every day," Dr. Monaghan stated. "This type of award, and I don't mean this just to sound humble, it's really a reflection of the school."
Dr. Monaghan's colleagues were less surprised by his accomplishment and extraordinarily pleased on his behalf. Mrs. Larsen, Assistant to the Principal, said that he's "such a great leader."
"He's positive, encouraging, [and] steady," Mrs. Larsen stated. "[I've] always been a big fan of Dr. Monaghan."
Dr. Larson, Glenbard District 87 Superintendent, noted that Dr. Monaghan is "caring, attentive and empathetic" and he "[c]ontinues to maintain the high standard and expectations academically for all students" at Glenbard West.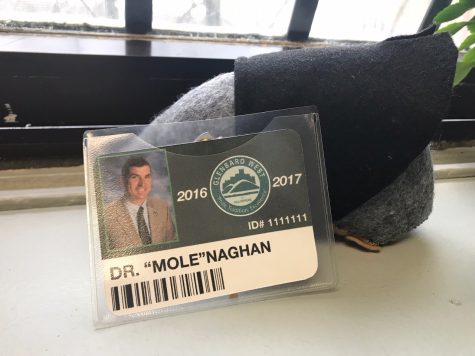 In addition, Glenbard West teachers and students believe Dr. Monaghan deserving of this important achievement. "I was really excited when [I learned] he was going to become principal," said Mrs. Wiersum, a member of West's English Department. "His greatest gift is the tone that he sets for the school." Mrs. Wiersum also added that Dr. Monaghan is "very affirming," as well.
Students also notice and appreciate Dr. Monaghan's work for Glenbard West. "Dr. Monaghan is probably one of the most dedicated principals [I've] had. He genuinely wants to make Glenbard West the best environment for students to learn in and works very hard to help the students at [West] succeed," said sophomore Avnika Surapaneni, a member of the Principal's Advisory Board.
Katelyn Schultz, a senior at West, agreed: "He really deserves this award, he knows how to work with kids and teachers."
One significant trend, however, emerges when speaking to the West community about Dr. Monaghan: our principal's "ability to connect," as Mrs. Larsen put it, really shines and makes a difference in our school.
"Dr. Monaghan emphasizes and models the importance of connecting and building relationships with everyone – students, parents, staff – everyone. He remembers names, shows a personal interest, and genuinely cares about people," said Dr. Larson. Dr. Monaghan "resonates."
Mrs. Wiersum concurred: "[Dr. Monaghan] leads with his humanity… He's setting a standard…but he does it through this…humanity-driven…way."
"He has done an excellent job, throughout his career at West, of connecting" to students, teachers, and the surrounding community, said Mr. Peterselli. "People trust him, [and] people like him."
Mr. Peterselli also noted that Dr. Monaghan "knows the names of so many kids…which is really impressive. He makes an effort to be out in the hallways connecting with kids."
Another interesting emphasis made by Mrs. Larsen: Dr. Monaghan tries to go to all the student events he can fit on his calendar, and he makes "a point to get out into the hallways to greet students."
Alex Frazer, Student Council President, has also observed this trend over his four years at Glenbard West: "[H]e has some of the best school spirit I've ever seen. He loves to go to our performances and games. In fact, he runs a whole Twitter page dedicated to acknowledging the many achievements of our school."
"His heart is with students," Mrs. Larsen said.
Dr. Monaghan has been the principal of Glenbard West for six years; before he occupied this position, he was the Assistant Principal of Student Services at Glenbard West, and before that he was a dean at our high school. According to Dr. Monaghan, he has worked at West for twenty-four years.
As one might expect, Dr. Monaghan has learned much during his time at Glenbard West. When asked, he stated, "I learn[ed] that learning is the most important thing you can do" as a leader. "You need to get next to students and next to teachers," he added.
"I think one of the most important characteristics as principal is to maintain curiosity and interest… You have to walk into situations…wanting to learn more. I learn something every day from kids," Dr. Monaghan emphasized. "You can't do any of it by yourself, you're part of a team, you have to rely on other people."
Dr. Monaghan was also asked about his famous tendency to greet students in the hallways during passing periods. "[It's i]mportant for me…to try to find out what's happening from the student's point of view," he said, adding that he wants "to be present, as much as I can."
From his presence and time at Glenbard West, both Dr. Monaghan and the community have developed many anecdotes. "He personally sent me an azalea," said Mrs. Wiersum of the time she was diagnosed with breast cancer. "That was really nice."
Mrs. Larsen shared that Dr. Monaghan brought the Glenbard West maintenance staff bagels in the midst of the slushy weather this February. He also "shaved his head for St. Baldricks" one year, according to Mrs. Larsen.
"[Dr. Monaghan] was one of the first people to welcome me, to offer advice" when Mr. Peterselli was hired, stated Mr. Peterselli. "He's funny, which is not something I knew about when he was my dean [in 1995]," he included.
"One of my favorite Dr. Monaghan memories happened during a pep rally two or three years ago," said Alex Frazer. "He ran out in full Hilltoppers basketball uniform and had a three point contest with Ms. Gatz. He ended up making so many in a row and the students went crazy."
Dr. Monaghan remembers with particular clarity a Glenbard West Homecoming Parade when he was still a dean. "The theme that year was Disney…[my class board's] theme was Cinderella." There was "a giant weather balloon" and "PVC piping and lights," recalls Dr. Monaghan, and the class board put Dr. Monaghan's two young children on the float during the parade.
Eighth grade activity night is another event which holds a special place in Dr. Monaghan's heart. "[T]hat athletic and activity night has got to be one of my favorite nights of the year, because it's just wide open, it's a great sampling of our school. You walk around that room and see everything."
"There are so many profound moments in this job," Dr. Monaghan concluded, "when you learn about some of the struggles that kids go through, when you're able to help somebody achieve their dreams."
Congratulations to Dr. Monaghan on his fantastic award, and thank you for all your work on behalf of Glenbard West!
About the Contributor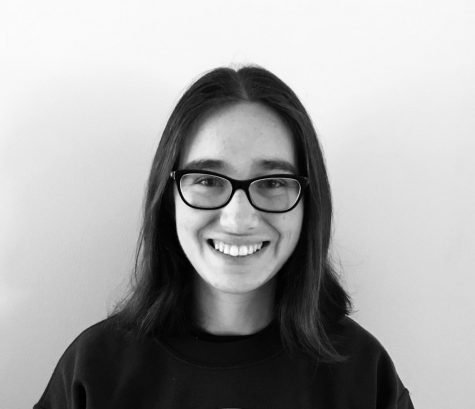 Ellie Ostroff, Editor-in-Chief
Ellie is The Glen Bard's Editor-in-Chief and a senior at Glenbard West. This year is her third on the Editorial Board. She plays field hockey and chess,...