Robbie White commits to Northwestern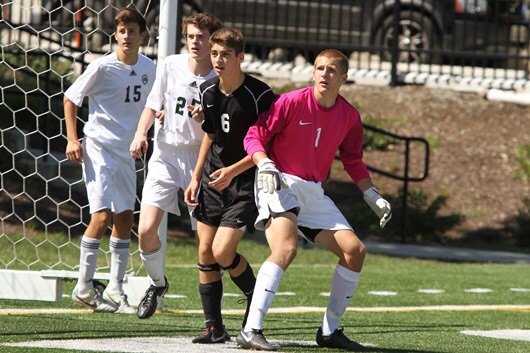 This was originally published in The Glen Bard's May, 2015 issue.
This past week I was fortunate enough to speak with Robbie White, a member of National Honors Society, and West Students for the Disabled, regarding his future plans with school.
Ultimately, his decision to play soccer for Northwestern; here is what he had to say!
When did you begin playing soccer/ what attracted you to it?
R: "Well I think I began playing soccer in second grade, just participating in Park District for fun. I started because I used to watch soccer games on TV with my grandpa  and I sort of became hooked. Then eventually as I became more interested I decided to play travel."
What is your schedule like now?
R: "I have practice every day after school and I currently play for the Chicago Fire Academy."
How do you manage to balance everything with such a busy schedule?
R: "School, soccer, homework, repeat… I mean I pretty much do homework whenever I can, since some nights I leave at 4 and get home past 11:30 pm. But I manage I guess, and any free time I get I'm usually hanging out with friends. I've learned to run on five to six hours of sleep. I get some Fridays and weekends off, so that's when I catch up usually."
Did you participate in any sports here at Glenbard West?
R: "Yeah, I played soccer here for three years."
When you were younger did you ever think that you would play at the collegiate level?
R: "Not really. I mean, I liked soccer, but it didn't really occur to me until I was in highschool that I might want to play collegiately."
How did you decide on Northwestern?
R: " I thought Northwestern was a pretty good mix between academics and a good soccer program; it's one of the top twenty five teams in the nation."
Do you have any ideas on what you might major in?
R: "Well, I haven't really decided yet. I think I might major in either Biology, Political Science or Economics. As of right now I'm going in as a Biology major."
Thank you so much for speaking with me! Congrats on all your hard work and dedication Robbie, this is a major accomplishment! We are so proud of you and wish you all the best in the years to come!