May (Graduating) Senior Spotlight
This month concludes my Senior Spotlight column. I've enjoyed interviewing and learning about the amazing seniors that make Glenbard West such a great place over the past few years. This year's senior class holds an immense amount of talent ranging from All-State athletes to proclaimed musicians to perfect ACT scorers, and everything in between.
When asked about their time at West, seniors responded positively without fail, raving about their own experiences and personal growth throughout their years. Here are some seniors' favorite memories:
Samra Haseeb: "Homecoming week is always so fun because there's so much going on, and especially our senior year it was extra fun and special."
Emma Raczka: "I would have to say my favorite memory is having the Best Buddies perform in our choir concert last spring. We learned a few songs with them throughout the last few weeks of class and then got to perform at the end of the concert. Getting to connect with so many people through our love of music was truly something I'll never forget."
Ian Repking: "I would probably say Cross Country State this year with my amazing teammates."
Matt Sevcik: "Thinking about walking down the hill before football games still gives me goosebumps."
Abby Oberhofer: "All of the team sports I've been on (it's a lot!) and the fantastic work ethic everyone puts into the sport itself and working as a team."
Nina Crawford: "Personally dropping a whole cake facedown in the hallway was a highlight."
Lily Franz: "Being part of the senior flash mob at the Homecoming pep rally with all my best friends."  
Joe Peraino: "Playing sports, especially beating Hinsdale Central in football, and all of the school dances."
Tracy Escobedo: "The funniest thing was all the teachers dancing with the steppers at the Performing Arts Assembly this year."  
Zach Demos: "Freshman year football making all of the friends I still have now."
The most common favorite memories included Saturday football games on Duchon, Homecoming week dress up days, the Senior March the night before the first day of school, the outstanding teachers and faculty, and simply being lucky enough to attend this castle on a hill. From theatre to forensics, art to athletics, these seniors have broken out of their comfort zones and tried new things, encouraging underclassmen and incoming freshmen to do the same.
Next year, we will be all over the country and the world, some of us studying fashion in Paris, some of us bravely serving our country, and others exploring their passions everywhere in between. Wherever life takes us, we will be equipped to take on life's challenges, drawing from our amazing experiences at Glenbard West. Best of luck to all of my classmates in their future endeavors! You will be missed!
About the Contributor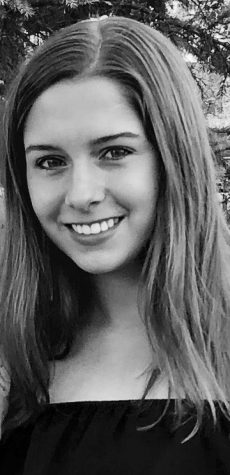 Abby Hoffman, Columnist
Abby Hoffman loves to write and has been involved in the newspaper since she was a freshman. She writes a Senior Spotlight column where she interviews...