West Senior Profile: Ahalya Lettenberger, champion swimmer
Many of you know Ahalya Lettenberger. What many of you may not know is that, over the past four years, Ahalya has been swimming all over the world, winning medals while earning straight As.
Ahalya's passion for swimming began eight years ago. Even though she has always had fierce, competitive edge, Ahalya found that other sports were painful for her to play. That's when she found swimming and the rest, as she says, is history.
Ahalya currently swims for the local B. R. Ryall YMCA Swim Team and represented GBW her sophomore and junior year on the Glenbard West/South swim team.
Most impressively, however, is that Ahalya also swims for the U.S. Paralympic Swimming National Team. In 2015, Ahalya competed in the Parapan American Games in Toronto ─ essentially, the Olympics for countries in the Americas.
What Ahalya will never forget from this experience is "winning the gold medal in the 100 backstroke" and "standing on the top podium hearing the national anthem." She says that "there is truly no better feeling than representing your country."
Ahalya's road to victory hasn't been easy. Swimming is a year-round sport, and each week Ahalya has eight to nine practices that can last for two to three hours. Just this year she's "missed a crazy amount of school due to international competitions," totalling to "over a month and a half."
Ahalya admits that this definitely made balancing her schoolwork and swimming difficult. However, she is deeply grateful to her teachers and classmates for being supportive and helpful. Even though there have been many sleepless nights and sacrifices and lots of hard work, the feeling that she gets as she races through the water makes it all worth it.
Ahalya has committed to Rice University and plans to continue her athletic career by swimming on the school's team.  She couldn't be more "excited to compete at the collegiate level."
Ahalya also plans to study biomedical engineering and hopes to "design prosthetics and other medical devices to help others with disabilities."
Ahalya's vision for the future doesn't stop there. Her ultimate dream that she's had since she first started swimming is to qualify for the 2020 Tokyo Paralympic Games. As she is currently on the U.S. National Team, she hopes to "continue to represent the USA at competitions around the world" and "make her dream a reality."
There is never a day when Ahalya doesn't have a huge  smile on her face that lights up any room. As we eagerly await to see what Ahalya's future holds, we know that she will do extraordinary things.
About the Contributor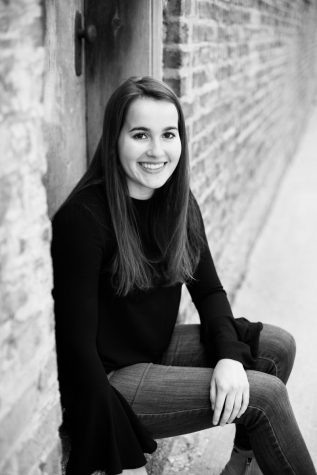 Julia Lane, Managing Editor
Julia Lane is a senior this year at Glenbard West and has been part of the newspaper for three years. She is so excited to be Managing Editor of The Glen...