Ms. Quirk: West is a second home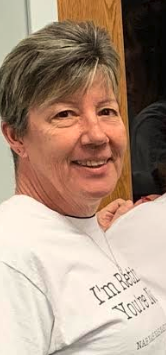 At the end of this May, Ms. Kelley Quirk — Glenbard West's Substitute Coordinator and Administrative Assistant — will retire after twenty-four years of working at our high school.
Ms. Quirk spends her days "[g]etting coverage for every teacher" who is missing a class period or day due to illness, personal time, or conflicts. "It's a puzzle" to put together substitute schedules, said Ms. Quirk. "I've always liked it."
One of Ms. Quirk's favorite memories at Glenbard West is when the "Social Studies Department comes up and sings to us for Administrative Assistants' Day. I'm gonna miss that one, that's for sure." Another one of her favorite memories is of a years-old senior prank. The graduating class left "blue crabs all through the hallways. We all thought we were going to have a nice dinner" with the crabs, Ms. Quirk stated. "[The prank was] harmless but smelly."
"I will miss [the stairs] because that is…my workout," Ms. Quirk added. "I love the stairs." Ms. Quirk will also miss working at West because it's been a "second home for this many years."
When she retires, Ms. Quirk plans to not set "an alarm clock and [see] if [she] can sleep in."
"I start here at 6:30 [a.m.], but if it's a crazy and heavy day, I could be here by 5 [a.m.]," Ms. Quirk said.
Ms. Quirk also plans to travel: "I have an Aruba trip coming up [which] should be nice."
"Take advantage of everything they have here to offer," she advised students. "[T]here's a lot that everybody can participate in…You have it all here at your fingertips. It's awesome."
Congratulations to Ms. Quirk on her retirement, and our thanks go out to her for all of her hard work at Glenbard West!