Evan Taylor signs with Lehigh University basketball program
The now former basketball star at Glenbard West, Evan Taylor, is now onto bigger and brighter opportunities that await him in college. Someone who brings the traits of a tireless worker and professionalism on the court will be missed by coaches and teammates, as well as his dedication off the court. And his performances have reflected those traits.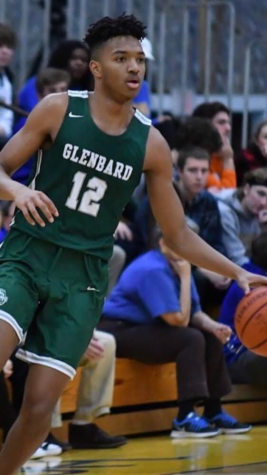 This past season, Taylor surpassed names such as Justin Pierce, and Johnny Shurna for the Glenbard West all-time leading scorer. Something that was in the making since his freshman year.
In looking back at some of his accomplishments, Taylor said, "As a team I feel that getting to 20 wins was our biggest accolade. And being able to go through the playoffs for me was a bigger achievement more than anything."
When on the court, Taylor led the DuPage County area with 21.7 points and 10.2 rebounds a game. Taylor was a big-time playmaker, as he could play any position from a point guard to a power forward.
The way Taylor conducted himself at practice and during games showed his professionalism and class. "He is a very unselfish person both on and off the court," said Taylor's former teammate Patrick Fornatto."He would always be offering rides to anyone, and admitting his mistakes during practices and games."
But all of these achievements came along hard work, dedication, and most importantly motivation. "I always wanted to be the absolute best I could be, as a child I always wanted to become a basketball player, people here at West have pushed me to get into the gym and motivated me the hardest," said Taylor.
Now as Taylor prepares for graduation, his work ethic and basketball performances have awarded him a chance to compete at a Division I University. Evan will be playing at Lehigh University, a decision just made recently after changing his choice from Southern Illinois. "I decided to change my options from Southern Illinois due to the coaching change, I felt that I could find another school that wanted my talents on and off the court."
During the year, the head coach of Southern Illinois, Barry Hinson, decided to step down from the position. Hinson recruited Taylor and offered him a scholarship. However, Taylor decided to change schools following the hiring of Bryan Mullins. But Taylor seems very happy and pleased with his decision. "I'm extremely excited for my freshman year at Lehigh this fall, I am looking forward to being with my new teammates and coaches."
Not only will Taylor be playing basketball next year in college, Taylor will be studying sociology at Lehigh, another example of his work ethic and drive. With all the hope and glory ahead of Taylor in his basketball career, he also knows one day that his career will end. He seems to know what he wants to do when that day comes. "I would obviously like to play basketball as long as I possibly can, but we all know one day that it will stop, hopefully I will be able to do the things that I love in the future," said Taylor.
This past season Lehigh had a very strong season involving a 3rd place finish in conference and making it to the semifinal in their conference tournament. With the arrival of Taylor, he discussed how the possibility of making a run at the NCAA tournament is a challenge Taylor is looking forward to.
"That's the goal. I feel like we got a great group of guys and my hope is that we can make a run at it just like McCollum did a few years ago," said Taylor. Just like C.J. McCollum dethroning Duke in the tournament, Taylor strives for something much similar. Throughout these past four years Taylor has been a model athlete for everyone here at Glenbard West — someone who is selfless, motivated, and intelligent with accolades to prove it. He is a one of a kind player and student. And with all of the success Taylor has brought to Glenbard West, all we can really say is thank you Evan and good luck.