How Important Is Senior Year?
Do the Last Two Semesters Truly Matter When Applying to Colleges?
Senior year. The year many students consider to be the most important in terms of enjoyment, and probably the least serious in terms of academics as junior year is the last year colleges will most likely see before the application process starts. Students often paint the picture that senior year centers around having fun and not worrying so much about grades. Although that sounds incredibly appealing, is it true?
Guidance Department Chair at West, Mr. Wiencek, mentioned that second-semester junior year is the final semester on a student's transcript, once they apply to a college for early action, (as the deadline for that is November 1st, even before the first semester has ended). However, the idea that colleges will not see students' grades from senior year or take them into consideration when making their decisions is actually a myth. 
In a blog by Anamaria Lopez, managing editor at CollegeVine, she explains that colleges often require a mid-year report containing final grades. In fact, on the Princeton College website, they specifically mention, "If you are admitted, your counselor is asked to send us your final grades for the senior year with the Final Report. Admission is conditional upon your successful completion of the senior year." Lopez also mentions, "This is true not only for grades but for extracurricular involvement as well." It's pretty clear that senior year isn't exactly a year to blow off all responsibilities. 
Colleges can always change their mind on a student's acceptance based on their performance in their final year. Lopez emphasizes, "Getting an acceptance letter isn't a guarantee you'll be allowed to study on campus come fall. In addition to mid-year reports, counselors also send colleges end-of-year reports that include your grades from second semester." Second semester is often the semester in which 'senioritis' hits the hardest, leading to many students finding it hard to focus on their work as they are so prepared to end one chapter of their life and head towards the next one.
Of course, this doesn't mean students need to stay up till midnight every night obsessing over every small detail in homework assignments. In fact, simple strategies can help with managing the stress of senior year so students don't become overly anxious. 
According to an Edutopia article by Micaela Nicol, a current college writer, having just gone through the application process herself, it's important to start college applications as soon as possible in order to avoid being overwhelmed or even blowing it off through procrastination later on as "The sooner you start, the more time you will have to perfect them." Asking your counselor several questions and planning ahead can also save a student time and avoid the all-nighter many students tend to pull the night of October 31st before early action applications are due. In addition, having weekly check-ins to ensure everything is on the right track to be submitted on time deems important. 
When asked about how to manage the stress of senior year, Noor Ansari, a recent West graduate who is attending the University of Illinois in Urbana-Champaign this fall, explained how important it is "to get [college applications] started in the summer…but also be smart about your applications. If two prompts are very similar, use the same essay [idea] instead of thinking of 500 different ideas." This could especially be helpful if you are applying to more than three schools, as the prompts tend to be similar. Of course, do not use the exact same essay, but using the same overall idea could be helpful instead of stressing out trying to think of a new one. It's also important to remember to address each college separately, as an easy mistake can simply be forgetting to change the name of the college a student is applying to in the essay. 
For more information, check out another article, "Counselors and English Teachers Reveal Helpful Tips about Applying to College" for information and tips on how to successfully fill out college applications. 
In conclusion, senior year proves to be still quite important academically, and it's important to finish your high school years successfully. Of course, at the same time, it doesn't need to be overwhelmingly stressful either. It's always important for students to give their best effort as well as learn to manage the stress of their final year of high school.
About the Contributor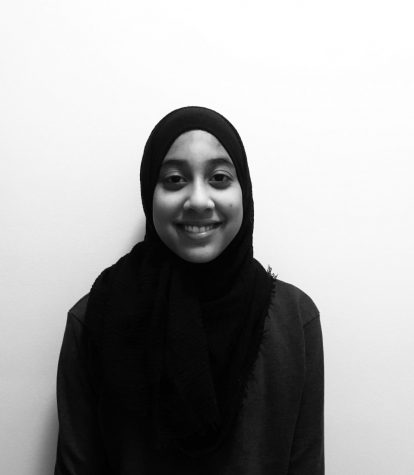 Asiya Mohiuddin, Features Editor
Asiya Mohiuddin is a senior at Glenbard West and has written articles for the newspaper since Freshman year. She mainly enjoys writing Features Articles...