Optimism Awaits: Upcoming season for Hitters filled with confidence,opportunity.
The school year is new and the season is fresh for the incoming Glenbard West football players this fall, a sense of hope and excitement fills the program. However, there was not much satisfaction for the Hilltoppers following the end of last year, involving the 45-0 loss to Lincoln Way East. It was a tough end to the season. However, as the new football campaign is quickly approaching, the Hitters have a huge opportunity to begin on the right foot starting with Maine South on August 31st. Glenbard West has faced Maine South as their season's debuting opponent in their opener the past two years, losing both games. This can be their chance to start to right the ship.
"You always have to look at the first game, and [the team was] obviously 0-2 against these guys. So, I feel the team really has a target set on this matchup," said Varsity quarterbacks coach, Tad Keely. "Especially with the loss last year, I think [Head Varsity Coach] Hetlet has the boys ready." This time of the year is perfect to develop young players and strengthen their football IQs. "I felt like our Offensive Line has greatly improved over the last few months by getting stronger physically, and having a much better depth on the line," stated Head Varsity Coach, Chad Hetlet.
The team has had ample time for preparation of the game plan and formations on both offense and defense. They started training in January with team lifts and walkthroughs as football requires dedication and mental strength during the offseason. Keely expressed his opinion on the training process: "I felt that it was a great summer, as fall camp is opening up, the kids are really starting to mesh well and form a togetherness."
While the regular season is known for requiring complete effort and attention to detail, it also is a time of excitement for the players. "I'm really looking forward to being together with my teammates and see how far we can go in the regular season and beyond," stated junior offensive lineman, Wes Hoeh. "We have the want and drive to be the best."
And to be the best the team realizes that it has to develop great leadership traits. "We always have character building before every training camp practice, and we really look to focus on trust with each other and the coaches as well," said Coach Hetlet.
Both sides of the ball for West have leaders and outstanding performers, such as Greyson Metz, senior, on defense, and an abundance of running backs on offense. And while both quarterback prospects in Braden Spiech, junior,  and Gerik Tyburk, senior, look promising, it is still unknown who will be under center against Maine South this weekend.
With a more run-based offense, it requires all of the quarterbacks to be mobile and master the play action pass. The team seems extremely confident in their game plan and the coaching staff has taken notice. "This group is really buying into what we're doing here, and I can see that with our sheer competitiveness and athleticism, we can outweigh our depth and challenge anyone," Coach Keely elaborated.
Although the optimism for this upcoming season is extremely high, the team is able to keep their goals grounded and to take everything slowly with Coach Keely saying, "Our goal for this year is to take every game one at a time and focus on each team individually."
About the Contributor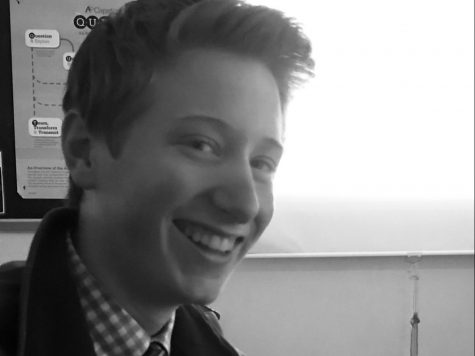 Ben Galvanoni, Sports Editor
Ben is currently a Senior at Glenbard West High School.  He enjoys writing primarily about sports topics and loves spending time with friends and family....