West's 2019 Homecoming was "Out of This World"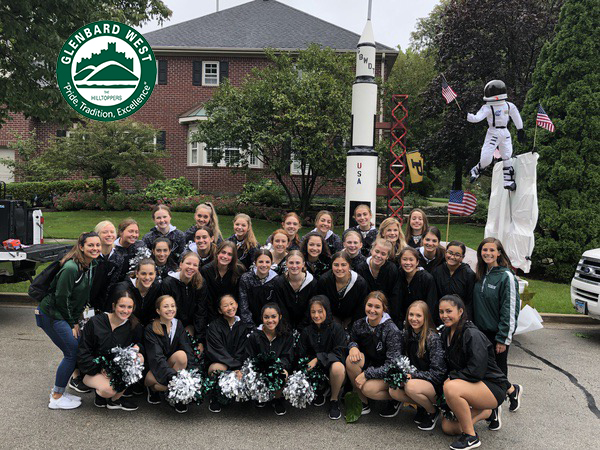 Homecoming is an American high school tradition that began in the early 19th century. It is a celebration which welcomes students back into the school year and illustrates the history of the school. Homecoming often involves a pep rally, a football game, as well as a dance. It is an event for a community to rally together to demonstrate their spirit which they have for their towns high school.
 On Friday, September 27th, Biester gym buzzed with energy and excitement for Glenbard West's 69th annual homecoming pep rally. The pep rally kicked off with a tunnel for all varsity fall sports teams. Followed by performances from the cheerleaders, dance team, and even Glenbard's own Steppers. Throughout the night, students were chosen to play musical chairs and run in relay races. 
 Glenbard West Superfan, Natalie Hermiller, explained that they chose to do musical chairs because "it gets the student body excited for the game and dance." Furthermore, she went on to describe one of the Superfans' goals this year for Homecoming was to "include everyone in the West student culture that we immerse ourselves in every day." Unfortunately due to weather conditions, the Woodchucks were unable to raise the blaze of the bonfire, but this did not stop the fun. Instead, the Chucks composed a fire from craft supplies to symbolize the fire they were going to ignite. They instead displayed the "fire" to the audience filling Biester.
Although there was a mist in the air on the day of Homecoming, Saturday, September 28th, it did not bring down the Hilltoppers' spirit. Early Saturday morning, team sports and clubs marched through the streets of Glen Ellyn for the Homecoming Parade and ended up in the school cafeteria for the annual pancake breakfast. 
Jakub Maciorowski, a senior varsity Hitters player, described that later that day he "walked down the hill with [his] teammates, while the crowd cheered [them] on." He went on to say, "All the former football players and alumni came to [their] game to watch [them] play."
The Hitters hit the ground running with two touchdowns, and York followed by scoring one touchdown. This did not stop the Hitters from "shutting York out for the rest of the game. The final score was 47-7," Maciorowski said, "[we] got the dub for the home crowd."
The night was finished off by a dance which was "out of this world." Student Council decorated the gymnasium and the field house with galaxy-themed decorations. Sophomore, Sophia Pyka, described the decorations to be "centered around the idea of Astroworld and Area 51." The decorations were only one of the factors that contributed to a great night. Slowly, Glenbard West's 69th annual Homecoming came to an end. Truly, it was a dance that was out of this world.