Swim, Bike, Run: Recent West grad tackles Ironman race
Glenbard West is proud of the many alumni who have walked through the hallowed halls of West, left their impact through pride, tradition, and excellence, and carried the lessons they learned and character they have developed here into their post-high school exploits and endeavors. Many recent alumni participate in higher education at a four-year university or college of some sort. This description applies to Class of 2018 graduate, Kate McGrath, but with one special caveat. While Kate has been studying and pursuing an academic degree at Saint Louis University, she has also partook in an ultra-triathlon known as the Ironman. 
Widely popular and referred to as one of the most difficult athletic feats, the Ironman bests local 5ks and even the Chicago Marathon. The Ironman is an ultra triathlon organized by the World Triathlon Corporation. It is a race encompassing a 2.4-mile swim, along with a 112-mile bicycle course, and then a marathon, 26.2 miles, all after one another. In this order. Without breaks. 
Though this might seem daunting to some, what is even crazier is, as Kate reveals, "I had never run an actual marathon before doing my Ironman." She concedes that she had run spontaneous long distances on treadmills as an extreme means of procrastination and activity before writing an essay. She says, "I told myself that once I finished my run, I would start writing the essay I had due that week. Being the procrastinator that I am, I kept delaying my essay by saying 'one more mile.'" This mantra soon turned her five-mile run into more than what she had originally bargained for. 
From procrastination to implementation, Kate shares, "I had been toying with the idea of doing some sort of triathlon, but when I got off the treadmill that day, I knew that I had the endurance and willpower to do a full Ironman." From the treadmill to the Ironman racecourse, nothing was going to stop Kate from achieving her goals. 
After signing up for the Ironman on a whim, without any triathlon experience, Kate went on to get a little experience doing shorter and smaller races before the big day. "My first two triathlons were great race experience, but nothing compared to challenge or the triumph of the Ironman," Kate explains. 
As many of you are probably thinking, who has the time, effort, and desire to sign up for and go on to compete in the Ironman in such blasé fashion? Kate states that her inspiration for her Ironman dreams came with a bike ride with her mom. Whilst biking, her mom said, "'If you could only master running, you could be a triathlete.'" From then on, Kate started watching videos of Ironman finishes and eventually got hooked on the idea of completing this tumultuous and immense feat. Nothing was going to stop her now. 
Reflecting on race day and her favorite portions of the race, Kate shares, "During training, my favorites (in order) were: 1- swimming, 2- biking, 3- running." However, during the actual race, things changed: "Each leg has its own ups and downs." For the swim, choppy waters made it quite difficult to compete. Also, biking was very long, and she stated that " I found myself fluctuating between enjoyment and agony the whole time." Lastly, the run, though she usually despises, was energizing and exciting because it was right near the finish, which gave Kate a sense of enjoyment. 
In terms of the most difficult part, Kate shares that "staying focused and entertained for 15 hours" gave her the most difficulty. She could not listen to music, so she tried to play little games as a bit of distraction. In terms of the race, however, "the hardest part came  ⅔ of the way through the bike [portion] when there was this massive, never-ending hill. The timing of it was particularly brutal for me, because I had already had a long day, but was nowhere near the end." Yet, she persevered and made it through the entire race with a time of 15:48.42. 
Reminiscing on her Ironman experience, she states that the most memorable part of the race was halfway through. "At that point, I assumed that only my family was spectating me, and was excited to see my parents and siblings," but Kate was greeted with even more. "However, when I turned the corner, I was overwhelmed with an entire cheering squad with friends and families, which was a complete surprise." Along with this surprise, she could see the finish line, although she still had 2 loops to complete due to the way the course was structured, and knowing the finish line was there gave her reassurance that she could do it. 
After her Ironman, Kate advice about competing in your own Ironman race: "Just do it!  I am not naturally athletic, so if I can do one, anyone can." She said that signing up on a whim was the best option because it motivated her and gave her an obligation to start training. Besides that, she encourages everyone who aspires to compete to "enjoy every second of training/race day. It is such a memorable experience, and you'll want to cherish every moment." 
From college studying to Ironman racing, Kate McGrath is truly transcending and diversifying the activities of many of West's greatest alumni. Like all the faces that have been a part of and now left Glenbard West, we wish them all the best in their futures and cannot wait to hear about their opportunities, involvements, and even sometimes Ironman dreams, along with their journeys towards success. 
About the Contributor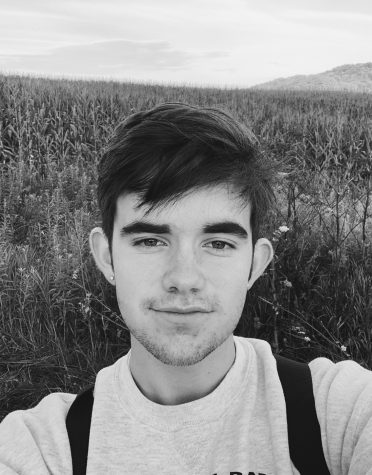 William Hohe, Co-Editor-In-Chief
William is currently a senior and is thrilled to be apart of the Glen Bard Editorial Board for his fourth year as the Co-Editor-In-Chief. Besides writing...