Super Fans: West's Secret Weapon
The Glenbard West Super Fans club, sponsored for the last three years by Jessica Walters, West social worker, is comprised of nine seniors who are tasked with leading the crowd in cheers and rallying cries at school events, such as sporting games, pep rallies, and club meetings.
Not only are Super Fans in charge of cheering, but they also have the responsibility of arriving at games and events early to set up speakers or decorations, in hopes of adding another element of excitement to the game for both the fans in the student section and players on the field. In addition, they are required to stay the entire length of the games they attend to monitor the crowds and aid in the cleanup process if possible.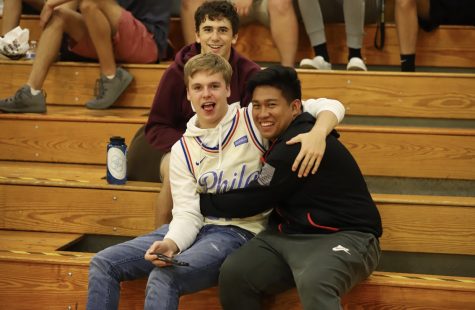 Mrs. Walters explains how the Super Fan club stemmed from the former pep club she ran, under the name of West Spirit. The club eventually evolved into what is now known as the Super Fans as the process of joining got more selective through an application format. 
After receiving many video applications last spring, Mrs. Walters, along with last year's group of Super Fans, hand-selected a new crop of seniors to lead the club: Mia Navarro, Antoni Roman, Jack Rueth, Katie Langan, Natalie Hermiller, Maddie Wallace, Kevin Tracy, Olivia Farley, and Jack Lewandowski. 
Super Fan Jack Rueth said, "I think I wanted to become a super fan because you always looked up to those people who were standing at the front of the crowd. I felt like I could do a good job of doing that."
Mia Navarro, a fellow Super Fan, explains her interest in the club was rooted in the strong belief in tradition at Glenbard West, stating, "Tradition is a big deal here, and we all want to keep that going and make it even better if we can."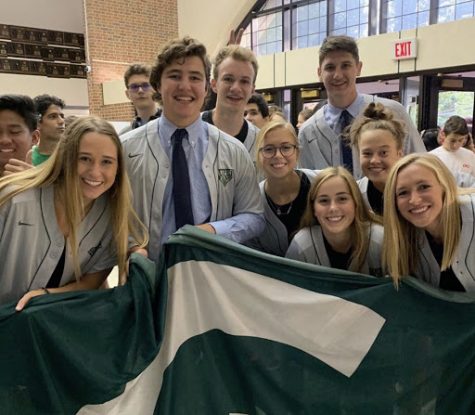 "I like this group because they want to be all-inclusive," Mrs. Walters stated. "They don't care where you're from or what you look like, they want you included. They talked about that from the get-go."
Senior Hitter David Lanciloti, after the Hitter football victory over long-time rivals Main South, explained, "Having an excited fan base really helps us rally together and do our best during games."
Super Fan Natalie Hermiller accredits West's superb athletic record to their spirit, saying, "Our positive energy leads us to wins." She even recounted her own experience at her school field hockey game when she was inspired to score a game-winning goal as she looked into the stands to see last year's group of Super Fans chanting for her.
The effect of cheering is evident not only to the fans and players but to the coaches themselves. 
Assistant Varsity Football Coach Jonathan Schweighardt voices his appreciation for the spirit displayed in the stands by saying, "When you have fans showing that energy, our [players] feed off of that."
The sporting events at West feature a cycle of excitement, beginning with the Super Fans, to the players, then back to the bleachers. "When the players get excited, you can see them getting hyped and it really gets the ball rolling," Super Fan Mia Navarro explained.
The 2019-2020 Super Fans are excited to continue cheering as West finishes out its fall sports and transitions into the winter and spring seasons in the coming months.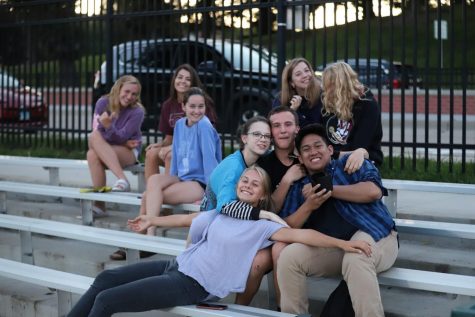 Juniors, be sure to keep your eyes out for Super Fan applications, consisting of a short video about why you want to be a Super Fan, coming this spring if you're up for the challenge of leading the Hilltoppers to victory.