West's 2019 Thanksgiving Turkey Trot
The Glenbard West Student Council organized an annual run during the chilly month of November called the Turkey Trot and it's cause was to raise money and donate food to the Glen Ellyn Food Pantry.
Mrs. McGann, social studies teacher and student council adviser, says that the Turkey Trot isn't just about speed, saying, "Before the Trot, you have to guess what your time will be [when you finish]. You could be the slowest person running, but if you guessed the most accurate time, you win." 
The prize for the Turkey Trot isn't a turkey, but rather a $20 gift card to Mariano's so the family of the winner can purchase a turkey. 
Speaking of turkey, Ali Siddiqi, senior and President of Student Council, was running about the mile race in a full body turkey costume. "It's Student Council tradition for the President to run the Trot in a turkey costume," stated Siddiqi.
One winner, Ms. Lorena Weaver, ELL aide, said, "It's a beautiful activity, it's for a good cause, that's why I do it every year."
The other two winners were Zack Zurawski, junior, and Matt Zurawski, sophomore.
About the Contributor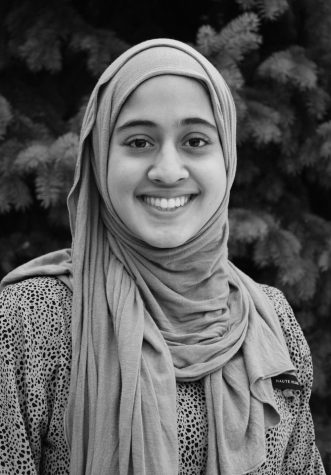 Maariya Quadri, Editor
Maariya Quadri is a senior at Glenbard West and an editor of The Glen Bard. In addition to newspaper, she enjoys baking, reading, and taking pictures of...