West's students can find their voice through voting
While November contained many points of excitement for students, a key part of West's timeline was teachers helping students to register to vote. If you missed this chance, there is still time to register. While this opportunity only applies to juniors or seniors, the motivation behind it holds true for all grade levels to take an interest in the voting process. Through West, the process to register is easy to handle.
With many different issues, some controversial, coming up in politics, many would say that it is essential for young people to have a say in legislation as the future is in their own hands. Therefore, performing this civic duty of voting is a good way for students to express their rights.
If you're 17 now, but will be 18 by the November election, you can actually vote in the spring primaries. In 2013, the Daily Herald reported that the proposal for this change, called the Suffrage at 17 law, was created by the Political Action Club at Stevenson High School in Lincolnshire. 
According to the Chicago Tribune, the "Suffrage at 17 law allows citizens whose 18th birthdays occur in the calendar space between a state or federal primary election (held in the spring) and the general election in early November to have a say" and have input on who Illinois representatives should be. In the past, students had to turn 18 before any sort of voting, including the primaries. 
However, for voting in the primaries or in the November election to be possible, it is necessary that students are registered to vote. Ms. McNally, social studies and government teacher at West, says, "It's really easy to register to vote" and one can register online if they have their "driver's license and the last four digits of [their] social security number." 
Ms. McNally reveals that "[she] can register [students]" since she is a voter registrar. She also says , "Most of the social studies teachers [at Glenbard West]" are also voter registrars, which increases accessibility for students with registering. 
Ms. McNally also explains that the registration itself is a manageable course of action since the Social Studies department can "register [people] on paper" while still getting "the same verification for voting" with it being "just a different process." She deduces that the easiest process is to "do it online" as it "takes a couple of minutes." Lastly, she concluded with the idea that all the teachers "are excited to register students to vote."
Using this link, students can still register online with all of their appropriate information. 
In DuPage County, there are many Republican and Democratic candidates running for local positions in their townships, according to the DuPage County website. Making an educated vote involves knowing the opinions and plans for both parties to ensure that a voter is making a choice that holds true with their values. Being educated on the different viewpoints allows students to compare ideas of all the candidates who are running for different political offices.
When asking Mr. Broccolo, social studies teacher at West, about how to become educated on who to vote for, he says that "both parties will list their official party platforms on the Internet" and that the "candidates will [also] have their [own] websites."   Mr. Broccolo says to go "directly to the source" to be informed on each candidate's stance. This would allow one to access the true message of the candidates and not get it "filtered in some way through a secondary source." 
Regarding the candidates' websites for locating information, Mr. Broccolo says, "[Candidates] usually are pretty comprehensive about their positions on whatever issues there are," enabling students to match their own values while understanding the candidates' values more clearly.  Since it may be difficult to find a candidate a voter completely agrees with,  Mr. Broccolo suggests asking, "'Which candidate do I agree with the most?'"
Voting, although it is just a short process, enables students to reflect upon what they believe in and allow them to have a more worldly view on the greater issues that are prevalent in America.
About the Writer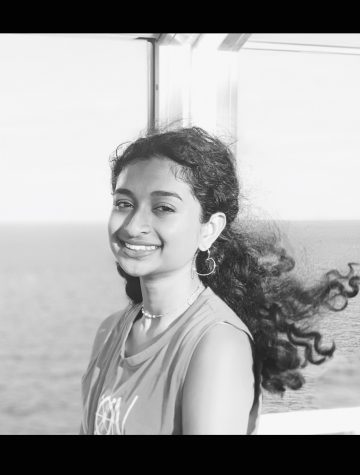 Olivia Edakkunnathu, Features Editor
Olivia Edakkunnathu is a senior at Glenbard West and is a features editor for The Glen Bard. Along with writing for the newspaper, she is a part of STEM...