How West students, faculty maintain peace, sanity in a time of stress
This time amid the coronavirus, also known as COVID-19, can mean different things for different students and faculty members at West. This possibly entails more worrying, a way to pace schoolwork according to one's needs, or spending more time with family or at home. 
The latter is something that connects almost all Glenbard West students. Ever since Governor Pritzker ordered a state-wide stay-at-home order, kids are encouraged to stay at their houses with family members. For those students who are an only child or who have only a couple siblings, maintaining peace can be more easily acquired. However, students with a larger family might struggle to keep calm, as going outside is becoming less of an option with upcoming cold weather. 
Teachers themselves can relate to this, as some have bigger families. In the initial two weeks of e-learning, teachers had to create their own schedules and make adjustments to their lesson plans. Along with that, they have had to adjust their lessons to be available electronically. It could be said that they are experiencing the same amount of stress as students, especially considering responsibilities outside of teaching.
Either way, it is important to not get into family conflicts as more time is spent with each other. There are many ways that students and teachers can avoid getting on the nerves of the other members of their cooped up households.
Common methods include meditation, acquiring a new skill or hobby, trying something new, or just simply doing something to pass the time. 
Getting outside can definitely help counter the effects that the coronavirus quarantine has with everyone being inside. Freshman Dominique Carpio maintains peace by "working out and… playing with a ball" which "has helped [her] family cool down from this hectic situation." 
Acquiring peace of mind is also essential during these stressful times, especially with the tolls of e-learning and hearing repetitive or frightening news. Junior Megan Hoerster realizes that finding silence in her house is hard, with overlapping "zoom calls" but she "[uses] meditation apps or videos that help restore the calm that [her] life held before [the] crazy pandemic" and these apps essentially help her to be "grateful for the little things in life and lock down on the things [she] can control" along with "[focusing] on [herself]."
Emily Milianti, senior, says she "[finds] spaces where [she] knows [she] can be left alone," and she also goes to her room to "paint/draw or… sit on [her] porch and read a book."
West's teachers are engaging in various activities, especially indoors. Math teacher Mrs. Schmerer and her family have been "[doing] puzzles, [having] dance parties and/or superhero battles with glow sticks… [watching] movies… [writing] chalk messages to people" to keep themselves occupied during the time at home. 
Science teacher Mr. Szarzak has been "doing Hangouts/Zoom meetings with groups of friends" along with "binge [watching] all of Stranger Things on Netflix" with Mrs. Szarzak. 
Teachers are also doing activities outdoors. Mrs. Schmerer says the only way her family can survive right now is with "tons of redirection." She says "walks are the best but [her family] also [plays] games in [their] yard…, go on [their] trampoline, play in [their] treehouse, do balloon drops, write chalk messages to people," revealing how important it is to get outside even though many are stuck in their house. 
Like Mrs. Schmerer, Mr. Szarzak states that his family "[tries] to get outside as much as possible" and they "[take] walks, [do] work in the yard, and… [work] on planting a garden." Taking a different approach, he "[takes] drives with no real destination just to break things up." Along with staying active and not being cooped up inside all day long, being outside allows for families to have a state of normalcy in their lives. 
Science teacher Mrs. Davis has been "exercising, dancing… so [she] can keep [herself] busy."
Students and teachers evidently have different approaches in maintaining a sense of calmness while they are at home and practicing social distancing. They have been benefiting from these methods since they both have their respective school work to complete by a certain time. For students, it is classwork due before a certain time, and for teachers, it is setting out lesson plans and posting assignments on Schoology. 
Students and teachers both also have ways to stay off the nerves of their family.
Dominique and her other family members "laugh and look at [TikToks] all day trying to figure out a certain dance." 
Emily "distances [herself] when [she] knows [she's] in a bad mood" but still will go downstairs "when [she] is open for conversation and company." 
Megan says it is "easy to get angry with [her] family for the small things since everyone almost feels 'trapped in'" but "[she] [has] found that exercise is the way to go if [she] has built up stress." This gets her "energized for [her] day and allows [her] to clear [her] head of tension or anger." 
Our teachers have been implementing similar methods in their households. Mrs. Schmerer says that everyone in her family "[has] [their] own hobbies" which "gives [them] the space [they] desperately need at times" which for her include "running and listening to music." 
When he is frustrated, Mr. Szarzak will "try to clean something or play some music or do anything [he] can think of that might make someone else living [in his house] a little happier." He also uses the times when he is upset as a time to be productive as he will "do some dishes or some other necessary and not-so-fun task" which helps him to not feel selfish later on. 
Mrs. Davis' family "[has] some semblance of a schedule" and they have "implemented family time and themed nights."
With coronavirus still traveling, there is still doubt about what will happen regarding schooling after April. With this in mind, students and teachers can find effective ways of making the most out of their time indoors and outdoors while we are still in the stay-at-home order. 
About the Contributor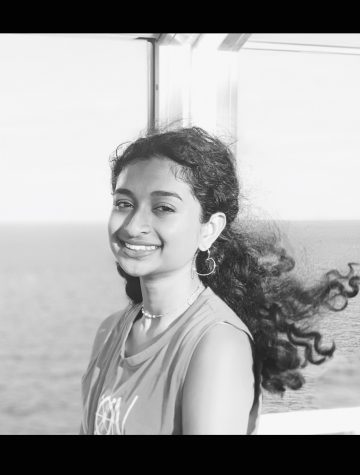 Olivia Edakkunnathu, Features Editor
Olivia Edakkunnathu is a senior at Glenbard West and is a features editor for The Glen Bard. Along with writing for the newspaper, she is a part of STEM...