William Hohe, winning 11 Scholastic Art Competition awards, talks about his creativity
William Hohe recently received 11 awards for his art at the Suburban Scholastic Art Region competition. He earned six gold keys, three silver keys, and two honorable mentions for multiple categories such as art portfolio, photography, sculpture, painting, and mixed media. With these recognitions, Hohe's gold key winners will move on to the national competition.
William has always been into art since he was little. He recalls that when looking back at memory books or photos he was always, "drawing or painting" or doing "something involving art." 
He remembers that he "got [his] first iPhone at 7th grade, and [he] just started taking pictures of whatever." Building on this budding interest however, William explains that he did not take art, (photography being his main form of media), seriously until high school. 
Ms. Cann, William's photography teacher, expresses that William "truly embraces his creative thought process to create that which is brilliant."  
Hohe's high school classes played a role in developing his talents. Classes like Photography 1, Photography 2, Drawing 1, and AP art courses helped him to "apply [himself] and figure out what [he] wanted to do and what kind of art [he] wanted to make."
Mrs. Doyle, William's art teacher, states that "[she] [knows] that the basement of [William's] house has been transformed into his art 'studio' where he regularly explores with various media and creation techniques including painting, drawing, photography, mixed media, found object art and sculpture."
William's technique for his pieces varies with the type of art he is creating. William used to "consider [himself] just a photographer, but this year and in the past, [he] delved more into sculpture and multi-media pieces and painting." When it comes to something that is not a photo, Hohe takes inspiration from references in pop culture and some of his favorite artists such as Keith Haring and Andy Warhol. On the flip, when it comes to photography, "Pinterest is where [he] [goes] for a lot of [his] inspiration." Additional artists that Hohe likes include Jean-Michel Basquiat and Cindy Sherman. Musical artists that he looks to are Lady Gaga, Madonna, and other artists that "put on performances that are super extravagant" which also inspires his art.
Through all his approaches, William emphasizes that a common theme for his work is that he is "super inspired by artists that have come before [him] and people [he] [looks] up to" and not only having pieces that hold "personal meaning." 
Mrs. Doyle says that, "Committed to the arts, both the learning of and creation of, William creates not always necessarily because he 'wants' to but because he 'needs' to."
Hohe adds that it was "cool to submit all the pieces this year" and that "this year, [he] was kinda really focused on what he created and [he] did it intentionally for this [competition]."
"William is very professional about constructive criticism with each project and puts his heart and his personal narrative into each piece he creates," Mrs. Doyle adds.
In terms of college, everywhere William applied to was mostly for photography or studio art. 
West gives whole-hearted congratulations to William and good luck for his future endeavors in art. 
Disclosure: William holds the position of Co-Editor-in-Chief for The Glen Bard. 
About the Contributor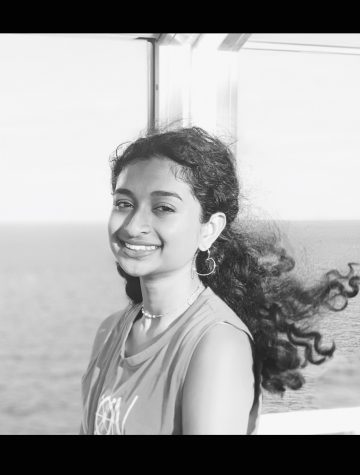 Olivia Edakkunnathu, Features Editor
Olivia Edakkunnathu is a senior at Glenbard West and is a features editor for The Glen Bard. Along with writing for the newspaper, she is a part of STEM...