West activities, clubs adapt to COVID-19 Pandemic
The COVID-19 Pandemic has brought unprecedented difficulties in the daily lives of students, faculty, and beyond. Glenbard West's clubs and activities, particularly those based on social interaction, are no exception. Having faced many challenges, these extracurriculars had to adapt to the ever-changing conditions.
Jam Club, a musical group at West, was one of them. Jam Club intends to provide an environment where students with different musical backgrounds can participate in improvisational music without being adept in music theory. When asked about the challenges faced by the club, Mr. Szarzak, the sponsor of Jam Club, shared, "The biggest thing is playing together in-person. I mean basically playing together in real time at all." In addition, it has "always been a very organic kind of thing," an aspect "lost this year."
In order to run, Jam Club tried an online program called BandLab. This brings them, in the words of Mr. Szarzak, "One step closer to jamming" because "at least a little bit of the improv is built in."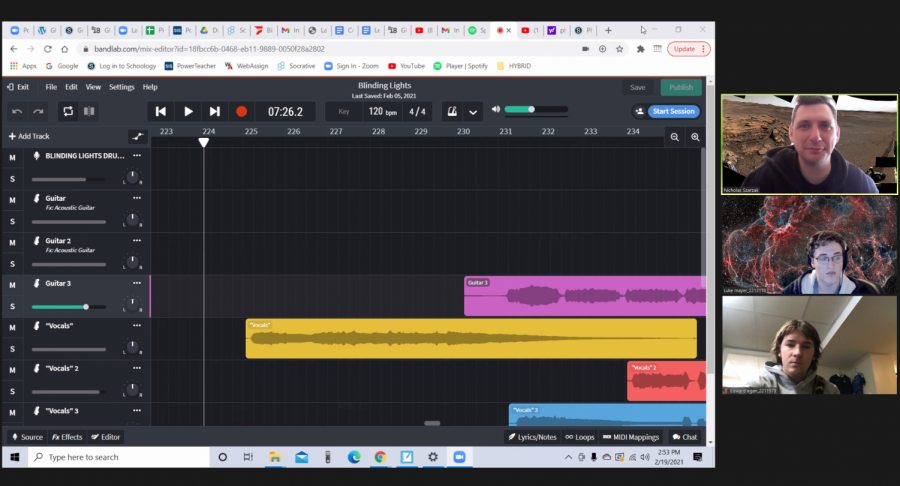 In a similar situation, Glenbard West Choir also needed to change its set-up. In order to solve this issue, the group, according to Choir Director, Mr. Jeffrey, "put together 'choir recordings' where people would basically record themselves individually then send it in," after which they would "try to put those together in an ensemble."
Theatre faced some additional challenges. Mr. Fox, the sponsor, said, "The main thing is we've not been able to hold in-person rehearsals or […] build set pieces, we've not been able to get together. We've not been able to go out into the community and sell or put up posters or sell ads by going up to people in the neighborhood."
According to Mr. Fox, they adjusted: "New skills have been focused on, such as filming and especially editing. We've relied heavily on the skills of our editors, and Tech Crew has really been taking on that huge responsibility throughout these productions and doing a really wonderful job with that."
Orchestra took a slightly different approach to these issues. Although they were not able to perform, they could bridge remote and hybrid students in order to keep the entirety of the Orchestra functioning in a creative way. Mr. Ortega, Orchestra Director, said, "We have a good microphone at the front of the room" so "the students at home are able to listen to their peers [who are in-person/hybrid] and then play along with us at home."
A bit different from previous clubs is Steppers, a group dedicated to step dance. They have been unable to perform at all this year. Despite the setback, according to Ms. Cooper, sponsor, Steppers still meets through Zoom to learn "a step or dance […] with the hope that someday we can perform it."
Performing arts groups were far from the only ones hindered by the pandemic. Model U.N., an activity which allows students to experience negotiation and politics in the context of a mock United Nations, has had its own hurdles. According to the sponsor, Mr. Kotrba, "usually one of the highlights of Model United Nations is traveling to renowned competitions […] There's a lot of connections to be made, but, as with online learning, there's a certain type of humanism that has taken out of the equation that makes it a little bit difficult to communicate and connect sometimes."
In addition, Chess Club has faced its own share of issues, but it has found a relatively seamless alternative. As said by Mr. Liechty, sponsor: "We could not play any matches against schools in-person, but we were able to play online.  It worked out okay, but it wasn't as good as in-person, of course."
Finally, the Write Place, a group dedicated to providing tutoring and aid for student writing endeavors, has had to change. Mr. Whitman, the coordinator of the Write Place, explained by transitioning remotely, Write Place tutors "have given [Mr. Whitman] their [remote] availability" for more asynchronous tutoring.
Mr. Whitman continued on to highlight an unexpected benefit of going remote: "Tutors are still, maybe even available more often as it's easier because of the flexibility of doing it remotely." He mentions "it really helped a student who was a little bit more introverted to feel comfortable in getting the tutoring help [virtually, as compared] being physically in the room."
Because of this realization, Mr. Whitman has decided that "whenever we are able to still do face-to-face tutoring sessions, that we will also have an option for remote sessions for students who would rather do that."
Although everybody has faced these sorts of challenges as a result of the pandemic, many of us have found ways to adjust and even grow in this time period. Mr. Fox mentions, "I am very, very proud of the students for being there, going that extra step to be there for each other throughout the year."
Mr. Kotrba concurs, "I think we're asking off a lot of students nowadays. […] [W]e're asking you guys to be self-motivated and focused and self-reliant and that's something we haven't really asked young people to do in, in all honesty, probably in many decades. So, I feel that a lot of young people right now are facing some pretty tough times, but more often than not they're figuring it out."
Despite the many challenges these groups faced, most of them found ways to move forward and make it so, when the pandemic ends, they are better than ever. Their admirable resiliency is a quality we can all try to mirror as we move through these tough times.
About the Contributor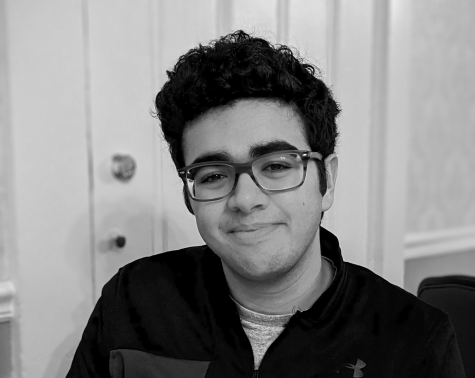 Ethan Parab, Tech Specialist
Ethan Parab is a senior at Glenbard West and a Tech Specialist of The Glen Bard. In addition to newspaper, he enjoys playing tennis, reading, and computer...