Meet Glenbard West's Theater Community!
Coming off a huge success with the Midsummer Jersey production, Glenbard West theatre members are working hard to get ready for this season's winter drama along with two Black Box plays written and directed by none other than their very own students. The theatre community is unique. What makes their plays successful is their dedication to the club, collaboration skills, and productive nature. Mr. Fox, the theatre director, states that "one of the most rewarding aspects of directing a play is that theatre is a collaborative art form. From the very first Midsummer Jersey company meeting in August, it was clear that this cooperative spirit was strong." 
Leila Salvidas— playing Moe in The Garden of Gold, a student-written and directed play by Henry King— talks about her experience in theatre: "Everyone is always so helpful and supportive of each other, and I'm glad to be a part of that! We all understand what we have to do and we get it done." 
Students are busy non-stop preparing for opening night each season. As said by Mr. Fox, their main goal is to "help theatre students and [their] audience members recapture the fun, immediacy, and communal nature of live theatre." Theatre club is open for all Glenbard West students, no experience is necessary. The club holds info sessions in the auditorium prior to auditions for each season. There you will get all the necessary information to join the club. Meetings will be held every Thursday, however if you would like to be part of the crew, you can stay after school to help prepare for the performances. 
Theatre is one of the many ways for students to get involved in extracurricular activities. Meeting every day after school, the Tech crew works backstage to create sets, props, and costumes and make-up while the Business crew advertise the play and assist the audience. Actor Henry King —playing Torvald Helmer in A Doll's House, this season's winter drama— highlights their collaboration: "We have an incredible Tech crew and Business crew and we wouldn't have a show without them. There are plenty of opportunities to be involved in theatre beyond just acting. Our actors, Technical crew, and Business crew have given 100% for this show. All the hard work put into this show is worth it when you first see that crowd when you're on stage." 
Beyond academic advantages, theatre members emphasize that the club provides an opportunity to meet new people and form many bonds. Actress Hannah Roberts reflects about theatre: "Theatre is my safe place. Out of all the activities I've done so far at Glenbard West, I've never felt more accepted than I have at theatre. I have found a group of people who understands me and makes me feel like I belong." 
One of the best ways to support theatre is to watch their plays. This season's winter drama, A Doll's House, explores the role and importance of women in the 1800s by following Nora as she chooses between maintaining her family's "perfect" visual or setting off on her journey to rebel against societal norms. Perfect for the cozy weather, this show "will definitely be a crowd pleaser," King says. 
Glenbard West will also be showcasing two Black Box plays written by their own theatre members. Henry King's The Garden of Gold is a hilarious "Indiana Jones" parody about an archeologist, Dr. Locke, and his partner, Arizona Rhodes, on a journey to find the Garden of Gold. The second Black Box play, Olivia Pauer's The Elevator, is a "worse case scenario" story about four former friends who get stuck in an elevator together. With this extra time to spare, the four are forced to find out what drifted them apart and, hopefully, reform their friendship. 
According to Mr. Fox, with the many performances coming up, it is guaranteed that theatre members will have a blast preparing for each play, and  "with all that everyone has been through over the last year and a half, a night of laughter in theatre sounds pretty wonderful."
Join Glenbard West Theatre Club after school as they prepare for this season's plays.
About the Contributor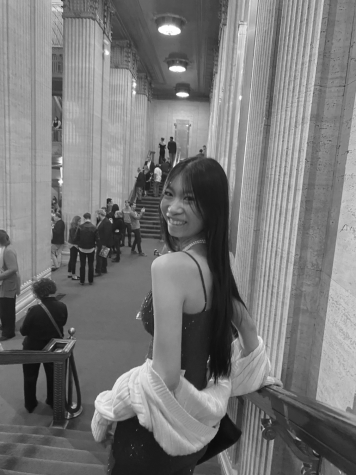 Amy Tran
Amy Tran is a sophomore at Glenbard West High School and an editor of The Glen Bard. Outside of the student newspaper, she is also a part of Student Council,...