Boys Volleyball Earn State Championship Title
"It was always on my mind," said Glenbard West Head Boys' Volleyball Coach Christine Giunta-Mayer, reflecting on the weeks leading up to the 2015 volleyball season.
"We had excellent leadership and self-motivated athletes, I did dream that it was possible."
On June 6, Mayer's dream was within reach, as the number 1-ranked Toppers were set to play Vernon Hills for the state championship.
"We had defeated Vernon Hills in a championship game at their tournament four weeks before this game," said Meyer. "I watched that film about ten times."
All of that preparation paid off, and the Toppers cruised to a victory in two sets, 25-15 and 25-13, respectively, and the championship dream came true.
"We came out like any other game, I tried to forget what I was playing for, pretend it was just another game in Biester. We came out swinging hard and our confidence showed," says senior Kyler Kotsakis of the game.
Coach Meyer says the difference between her state championship team and teams from years past relies heavily on the chemistry that the players developed together.
"We by far had the best team chemistry, which is something other teams dream of, but just can't find the right mix," she says. "They were all best friends on and off the court and it made a huge difference."
To say everyone on the team was a friend, however, simply does not do this team justice. Every Friday night of the season, the team was together.
"We acted like a family," said senior Paul Bischoff. "Everyone had each other's back."
The leadership from senior captains (now all graduated) Ryan Condon, Parker Swartz, and Jackson Nagle also contributed in large part to the Toppers success last season.
"They knew when to have fun and when to work. They set the tone in practice and gave every ounce of effort in every play. They were workhorses," says Kotsakis.
In 2014, the Toppers took 3rd place in State, in what was the best season in school history. Now, after one-upping that record season in 2015, the Toppers certainly do not plan on taking a step back.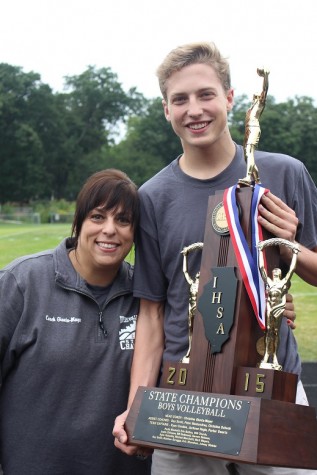 "It is going to be difficult to match last years team, however with all the talent coming from the class below I think we are in great shape," says Bischoff. "We are not lowering our expectations, we still have unfinished business."
Coach Meyer agrees that defending the state championship will not be easy, but says the team is ready to embrace the challenge this upcoming season will bring.
"I believe that Glenbard West Topper Volleyball will be pushing to defend to the end!"
Glenbard West congratulates all members of the 2015 state championship team, and wishes them the best of luck in the spring of 2016. Go Toppers!