Students Should Enroll in West Art Classes
Students are encouraged to take an art class
As we near the end of the year and the school semester, teachers and counselors have been active in encouraging students to take one class or another for next year. Just recently, students had the opportunity to hear a little about the different electives during their lunch periods on Wednesday, December 16th.
One elective, which students may have a hard time deciding whether to enroll in, is the art classes. Since some students do not know what art classes can offer to them, Mrs. Doyle, art teacher, went around the cafeteria talking to students about the eighteen different art classes offered at West. In a recent interview, she explains her opinion on taking art classes as an elective.
She states, "It is a struggle, especially in the last six to eight years or so when graduation requirements have increased. Yet, there is a way to get at least one elective if not more during your time at Glenbard West. Just like English, Social Studies, Math, etc. need to be learned, Art can be learned.  You do not need to have talent in order to take an art class."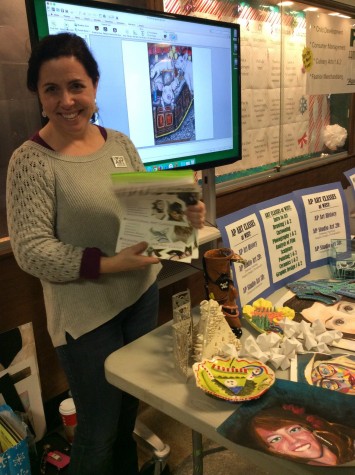 She goes on to address what the classes offer to students saying, "Art classes offer the gift of learning creative problem solving. Unlike some Math, Science or other disciplines where a 'problem' is given and often there is only one answer that everyone must achieve, Art offers students a 'problem' with which each student comes up with a different 'answer' of their own imagination and all students are 'right.' You don't need to pursue an art career to benefit from the creative problem solving learned in an art class."
Emily Gaertner, sophomore, says, "I think I would be very interested in doing an art class. It's hard to fit it in your schedule, but it seems like a really fun and interesting thing to do."
Referring to the different classes she may consider taking, Mary Beth, sophomore, states, "Definitely ceramics and maybe Art History. That would be cool."
Lauren Galitz, sophomore, says, "I think I would definitely be interested in taking an art class even though it's not something I would normally consider. I think that it's hard to fit into your schedule, but if you can make the time for it, it is probably worth while."
Many students struggle with this decision between electives and scheduling. Ms. Sieck, counselors at West, gave her insight on how to deal with this problem.
"I recommend that [students] set up a meeting with their counselor to review their four-year plan in Naviance and find a way to fit in all of their classes of interest, but still keeping a healthy balance. Summer school or zero hour P.E. are always an option to help a student who is having a hard time fitting in the requirements with their areas of interest by the end of high school," she says.
When applying to college, some colleges require a year's worth of applied arts and many alumni who have faced this problem wish they had taken art classes.
Ms. Sieck says, "Several colleges in California do require credits of fine arts, so I advise students to start visiting colleges junior year in the spring, so that they can meet with their counselor at the start of senior year to make any necessary schedule adjustments. I think art is incredibly valuable and important and it allows students to think outside of the box and be creative, which are important qualities to possess."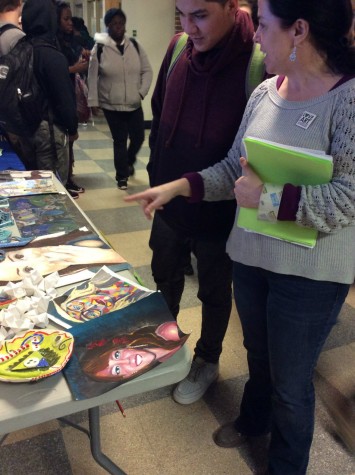 In a final thought about taking electives along with required classes, Ms. Henry, an English and Speech teacher, states, "I think it is imperative that students have a balance of required and elective courses. It helps make them more well-rounded. I think it helps them find that balance in their lives so that they're not overwhelmed all the time, and they are finding what things they are passionate about."
There are plenty of careers out there that do include art indirectly and directly. According to Ms. Sieck, students who have become interested in the past through taking an art class have gone into college majoring in careers such as Photojournalism, Digital Animation, Music and Sound Production, Art Education, Art Therapy, Graphic Design and Video Game Design. Like Mrs. Doyle said, though, no one has to major in art to be able to apply it in their lives. Just look around as Christmas draws nearer. What better proof of art during this season is there than that?
About the Contributor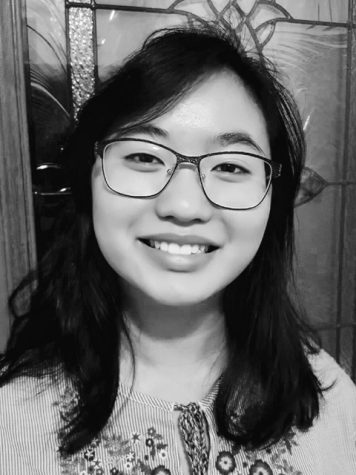 Emma Blackwell, Editor-in-Chief
Emma Blackwell is senior at West and is both the Editor-in-Chief of The Glen Bard and a columnist. Her main column is called "Artist's Corner" and covers...